Large Moon Flask with Buddhist Motifs

China, Jiangxi province, Jingdezhen kilns, Large Moon Flask with Buddhist Motifs, 19th century, porcelain with underglaze blue painting, The Suzanne and Alex Rosenkrantz Collection of Asian Art, public domain, 2010.36.13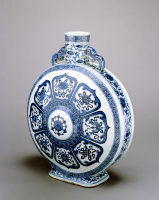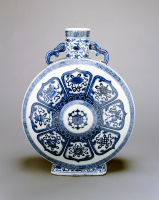 This work is not currently on view.
Title

Large Moon Flask with Buddhist Motifs

Artist

Date

19th century

Period

China: Qing Dynasty, Qianlong reign (1736-1795)

Medium

porcelain with underglaze blue painting

Dimensions (H x W x D)

18 3/4 in x 14 3/8 in x 8 1/2 in

Inscriptions & Markings

inscription: 大清乾隆年製 [Dai Qing Qianlong nian zhi] (Made during the Qianlong era [1735–95] of the Great Qing dynasty), base

Collection Area

Asian Art

Category

Ceramics

Object Type

ceramic

flask

Culture

Chinese

Credit Line

The Suzanne and Alex Rosenkrantz Collection of Asian Art

Accession Number

2010.36.13

Copyright

public domain

Terms
This impressive moon flask represents a well-known type of form and decoration that was perfected in imperial wares made at Jingdezhen during the reign of the Qianlong Emperor. An inscription on the base claims that the vase was made during the Qianlong era, but the lack of subtle shading in the painted design suggests a nineteenth century date. Potters at Jingdezhen continued to mark their vessels with Qianlong reign dates well into the nineteenth century, for reasons that are not clear.