Mudai (Untitled)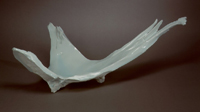 Katō Tsubusa, Mudai (Untitled), ca. 2000, porcelain with pale bluish green glaze (seihakuji), Museum Purchase: Margery Hoffman Smith Fund, © artist or other rights holder, 2001.11
This work is not currently on view.
Title

Mudai (Untitled)

Artist

Date

ca. 2000

Medium

porcelain with pale bluish green glaze (seihakuji)

Dimensions (H x W x D)

9 3/8 in x 24 3/4 in x 13 3/4 in

Inscriptions & Markings

inscription: Mu dai, outside of box lid

Collection Area

Asian Art

Category

Ceramics

Modern and Contemporary Ceramics

Object Type

sculpture

Culture

Japanese

Credit Line

Museum Purchase: Margery Hoffman Smith Fund

Accession Number

2001.11

Copyright

© artist or other rights holder

Terms
Katō Tsubusa has made a name for himself in the international art market for his unique handling of clay. Using a hard, snow-white white porcelain clay from New Zealand, he molds or throws his vessels and allows the clay to harden just slightly before cutting and shaping its final form. "The crest of a wave or the tip of a roaring flame: it is these fleeting forms that I try to capture in a moment of time."

Then, while it is still moist enough to retain plasticity, he pulls, twists, and tears it into breathtaking sculptural forms that seem to freeze in motion in space and time. In this example, his trademark pale blue glaze glimmers and pools over the surface, adding an ethereal beauty to the work.