Wasco Totem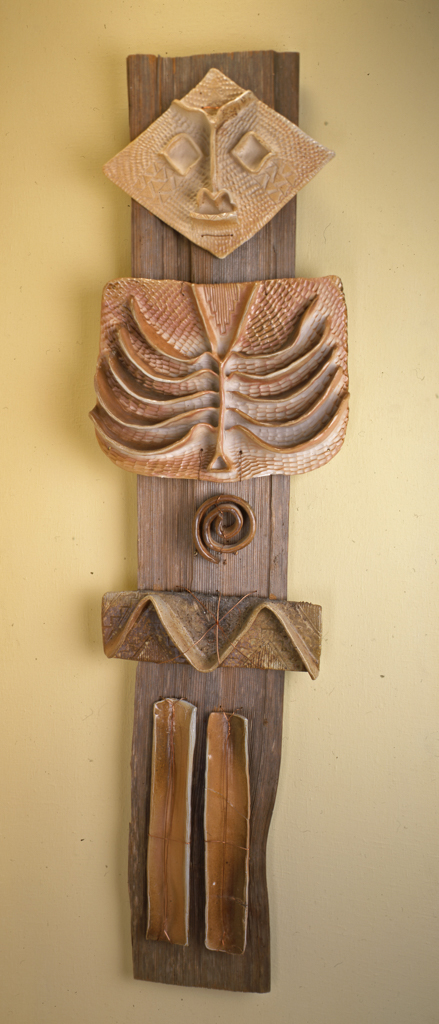 Lillian Pitt, Wasco Totem, 1996, Anagama fired clay, cedar, and copper wire, Museum Purchase: Auction Proceeds Fund, © Lillian L. Pitt, 2000.34
This work is on view.
Title

Wasco Totem

Artist

Date

1996

Medium

Anagama fired clay, cedar, and copper wire

Dimensions (H x W x D)

56 in x 18 in x 5 in

Collection Area

Native American Art; Modern and Contemporary Art

Category

Plateau

Western Oregon

Sculpture

Object Type

sculpture

Culture

American

Cultural Group

Interior Salish

Warm Springs

Wasco

Tribe/Nation

Yakama

Credit Line

Museum Purchase: Auction Proceeds Fund

Accession Number

2000.34

Copyright

© Lillian L. Pitt

Terms

Location
Lillian Pitt is a local Native American artist whose work reflects her Wasco heritage. She did not become an artist until age 38 when she began working with clay. Now, Pitt works with a variety of materials and is a renowned sculptor, jeweler, and printmaker, as well as an advocate for Native American art. She is especially well known for her masks and other small clay figures that are inspired by the stories of her people that she was taught as a child. The petroglyphs along the Columbia River and other traditional Wasco images have also served as a major source of inspiration. In Wasco Totem, Pitt has created clay forms with traditional Wasco motifs that are similar to those found on baskets, beadwork, and stone carvings. These clay pieces are then assembled on a rough-hewn board and attached with brass nails and wire. The result serves as a monument to the Wasco people. The similarity of the image to a crucifixion also refers to the tremendous struggles that the Wasco and other Native Peoples have endured.