Saint Michael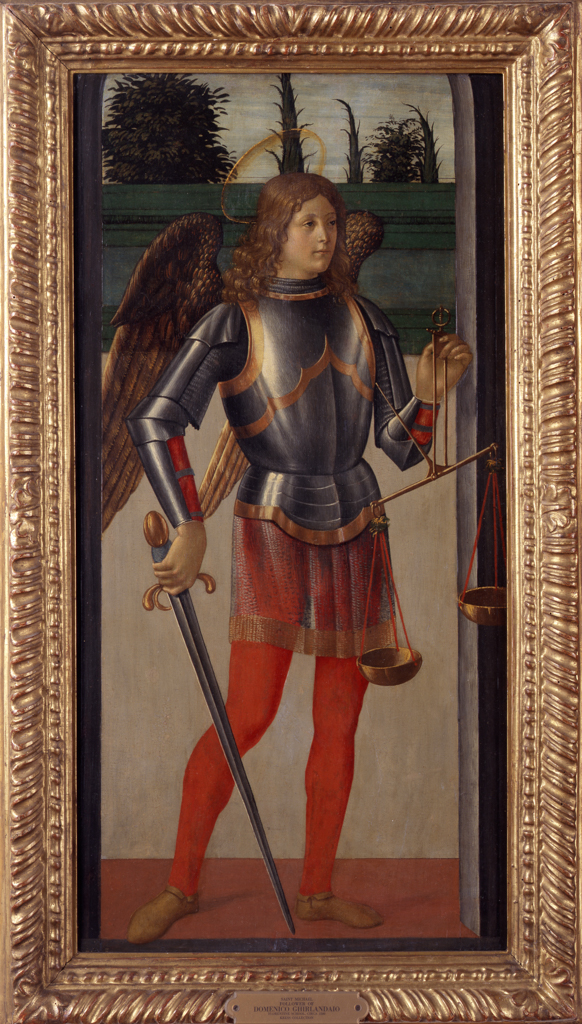 attributed to Domenico Ghirlandaio, Saint Michael, 1480/1485, tempera on wood, Gift of The Samuel H. Kress Foundation, public domain, 61.57
This work is on view.
Title

Saint Michael

Artist

attributed to Domenico Ghirlandaio (Italian, 1449-1494)

Date

1480/1485

Period

High Renaissance (late 15th-1520s)

Medium

tempera on wood

Dimensions (H x W x D)

31 7/8 in x 15 7/8 in

Collection Area

European Art

Category

Paintings

Object Type

painting

Culture

Italian

Credit Line

Gift of The Samuel H. Kress Foundation

Accession Number

61.57

Copyright

public domain

Terms

Location
Domenico Ghirlandaio was one of the leading artists of late fifteenth-century Florence. His highly successful studio employed a number of assistants, including Michelangelo as well as Francesco Granacci and Guiliano Bugiardini, both of whom are represented in this gallery.

Saint Michael, and its companion Saint Dominic nearby [see Related Artworks], are typical of Ghirlandaio's style in their honest detail, brilliant color, and charming linear energy. Saint Michael is armed against Satan, clothed in a dazzling coat of chain mail and holding a sword. In his other hand, he carries the scales with which he will weigh souls on the Judgment Day.