Carp and Turtles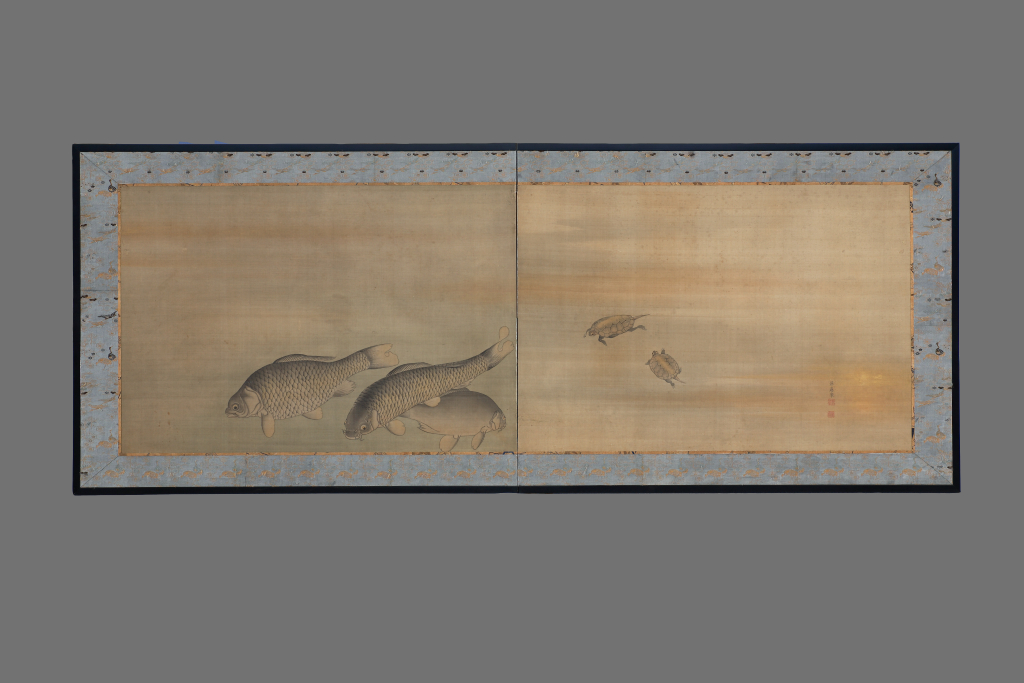 Maruyama Ōkyo, Carp and Turtles, 1770/1795, two-panel screen; ink, light color, and gold wash on silk, Museum Purchase: Margery Hoffman Smith Fund and Asian Art Acquisition Fund, with additional funds provided by friends of the Museum, public domain, 1997.1
This work is not currently on view.
Title

Carp and Turtles

Related Titles

display title: Kagamibuta netsuke

original language: 鯉亀図屏風

Artist

Date

1770/1795

Period

Japan: Edo period (1615-1868)

Medium

two-panel screen; ink, light color, and gold wash on silk

Dimensions (H x W x D)

30 in x 76 in

Inscriptions & Markings

signature: Maruyama Ókyo

signature: signed:Miyako (no) Ókyo; 2 seals

Collection Area

Asian Art

Category

Paintings

Object Type

folding screen

Culture

Japanese

Credit Line

Museum Purchase: Margery Hoffman Smith Fund and Asian Art Acquisition Fund, with additional funds provided by friends of the Museum

Accession Number

1997.1

Copyright

public domain

Terms
Maruyama Ōkyo is one of the giants of Edo-period painting. The son of an impoverished farmer, he was largely self-taught, but he apparently had access to Chinese painting and imported prints with Western perspective. He was one of the first Japanese painters to make extensive sketches from nature, a practice his students emulated.

Ōkyo's mature style tempers the realism of close observation with a flair for bold compositions. He became spectacularly successful, winning major commissions from the imperial household as well as Kyoto's leading merchant families. Ōkyo's followers, known as the shasei (drawing from life) school, would dominate Kyoto painting circles well into the twentieth century.

Small, two-panel folding screens such as this one were often used in the tea ceremony. It is a quiet work, appropriate for an intimate space. There is a hint of humor as well, in the contrast between the fat carp, scanning the pond bed for food, and the tiny, freely floating turtles.