The Sculptor and the King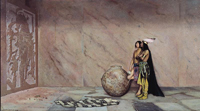 George de Forest Brush, The Sculptor and the King, 1888, oil on wood panel, Bequest of Miss Mary Forbush Failing, © artist or other rights holder, 48.1.12
This work is on view.
Title

The Sculptor and the King

Artist

Date

1888

Medium

oil on wood panel

Dimensions (H x W x D)

20 in x 36 in

Inscriptions & Markings

signature; date: Geo de F Brush 1888, brushed, lower left

Collection Area

American Art

Category

Paintings

Object Type

painting

Culture

American

Credit Line

Bequest of Miss Mary Forbush Failing

Accession Number

48.1.12

Copyright

© artist or other rights holder

Terms

Location
Brush studied at the National Academy of Design in New York, and went on to study in Paris under Jean-Léon Gérôme at the Ecole des Beaux Arts. Returning from Paris in 1880, he journeyed to Wyoming, settling on the Wind River Reservation for several months. From there, he traveled north to Montana, where he spent nearly a year among the Crow. Returning east in 1883, he began teaching at the Art Students League and producing the Indian paintings that brought swift attention from both critics and collectors. Some of these were published in prominent periodicals, such as Harper's and Century Magazine, sometimes as illustrations of the artist's own eyewitness accounts. During this decade, his paintings were acquired by the most prominent collectors of the day.

Around the mid-1880s, Brush began to focus on pairs of figures and isolated individuals rather than larger groups in his compositions. Later, he began placing these figures in enclosed and shallow spaces where the implied narrative was the creation of art rather than traditional subjects such as hunting. With The Sculptor and the King, which was painted during this decade, Brush won the first Julius Hallgarten Prize from the National Academy of Design in 1888, an honor that is still awarded annually. Many of his paintings remained in the same families through several generations, making it difficult to see and study these important paintings.