The Little Harpist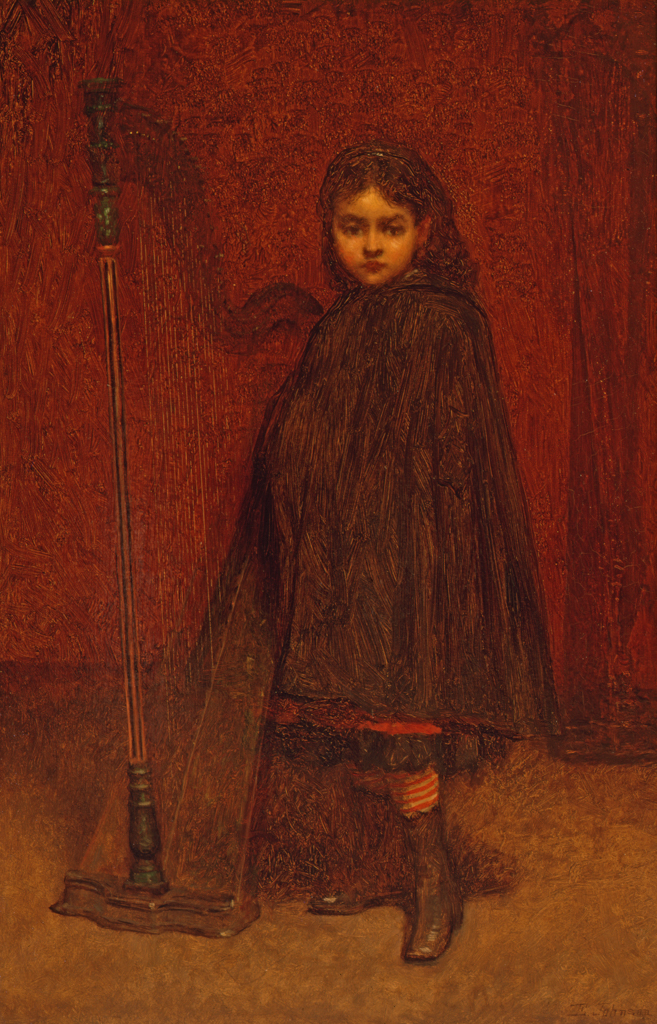 Eastman Johnson, The Little Harpist, ca. 1870, oil on panel, Bequest of Miss Mary Forbush Failing, public domain, 48.1.11
This work is on view.
Title

The Little Harpist

Artist

Date

ca. 1870

Medium

oil on panel

Dimensions (H x W x D)

19 1/2 in x 12 1/8 in

Inscriptions & Markings

signature: E Johnson, brushed, lower right

Collection Area

American Art

Category

Paintings

Object Type

painting

Culture

American

Credit Line

Bequest of Miss Mary Forbush Failing

Accession Number

48.1.11

Copyright

public domain

Terms

Location
From the middle of the 19th century, many American artists trained in France and produced light, bright Barbizon inspired works, primarily landscapes. In 1849, however, Eastman Johnson moved to Germany to study at the Düsseldorf Akademie, where a darker palette and more realistic style were taught. He went on to study in Holland, where he was greatly influenced by the composition, naturalism and deep colors of 17th century Dutch painting. Johnson was, of course, not alone in his Germanic influenced style of painting. American painter Frank Duveneck (1848-1919) was a great proponent of this style among Americans. Having studied at the Royal Academy of Munich, in 1878, he opened a school in Munich where many Americans flocked to study.

Genre scenes, images of everyday life, became extremely popular in the mid-19th century. They were generally highly detailed and celebrated classic American "types" and trades or recorded domestic scenes. Like the 17th century Dutch paintings that had influenced them, they contained symbols and signs for the viewer to decode in order to understand the underlying moral or theme. Johnson recognized the demand for this type of work and developed a format that combined portraits and genre settings. This work is part of a series of interiors with single women or young girls Johnson painted in the 1870s.