Composition #22, Sharpness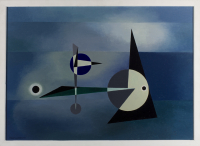 Maude Kerns, Composition #22, Sharpness, 1943, oil on canvas, Museum Purchase: Helen Thurston Ayer Fund, © unknown, research required, 47.2
This work is on view.
Title

Composition #22, Sharpness

Artist

Date

1943

Medium

oil on canvas

Dimensions (H x W x D)

20 in x 28 in

Inscriptions & Markings

signature: Maude I. Kerns 1943, backing

signature; date: Maude L Kerns 1943, brushed, bottom left

Collection Area

Modern and Contemporary Art; Northwest Art

Category

Paintings

Object Type

painting

Culture

American

Credit Line

Museum Purchase: Helen Thurston Ayer Fund

Accession Number

47.2

Copyright

© unknown, research required

Terms

Location
Kerns was born and raised in Portland by her pioneer parents. She attended the University of Oregon, the California School of Fine Arts and later Columbia University, where she received a second degree in fine arts under the guidance of Arthur Wesley Dow (1857-1922). Dow was the most influential teacher of the first generation of American modernists. The impact of his philosophies played a major role in shaping 20th century art and theory in this country. Following her studies, Kerns traveled to Asia and to Europe, where she saw the works of Wassily Kandinsky, Piet Mondrian and Paul Klee, among others of the avant-garde movement, and studied with renowned art teacher Hans Hofmann. She returned to become head of the art department at the University of Oregon in Eugene, and the Maude Kerns Art Center in Eugene is named in her honor.

From the 1930s through the 1950s, Kerns was well known for her abstract paintings in what was then called the "non-objective" art movement. A spiritual woman, she embraced Kandinsky's philosophy of art-as-spiritual expression. His influence is clear in the geometric elements of Composition #22, Sharpness, especially in the half-circles, angles, straight lines, and curves.