Bodhisattva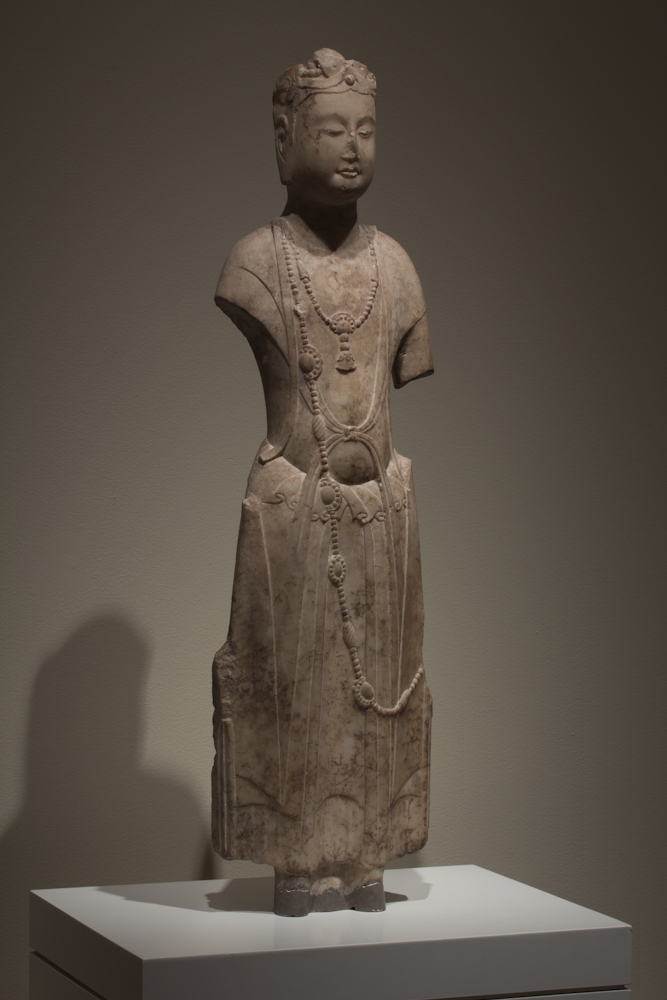 China, probably Hebei province, Bodhisattva, 550/577 CE, marble, Museum Purchase: Ella M. Hirsch Fund, public domain, 40.31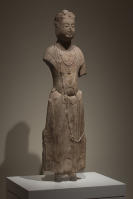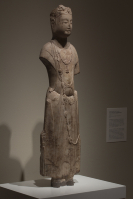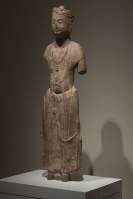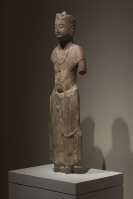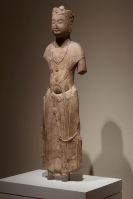 This work is on view.
Title

Bodhisattva

Related Titles

original language: 菩薩像

Artist

Date

550/577 CE

Medium

marble

Dimensions (H x W x D)

37 1/2 in x 10 1/4 in x 4 1/2 in

Collection Area

Asian Art

Category

Sculpture

Object Type

sculpture

Culture

Chinese

Credit Line

Museum Purchase: Ella M. Hirsch Fund

Accession Number

40.31

Copyright

public domain

Terms

Location
In Buddhism, a bodhisattva (wisdom being) is one who has attained enlightenment but postpones nirvana (final extinction) in order to help others. Bodhisattvas appear in the form of the young Siddhartha as a prince in ancient India, wearing elaborate jewelry and a dhoti, a skirt-like garment draped at the waist.

This figure dates from the Northern Qi dynasty (550–557), making it contemporary with the large Buddha head on view nearby (51.255). Sculpture from this period reveals a nascent movement toward realism, as the body begins to emerge from an erect, columnar form, with low relief carving to delineate musculature, garments, and jewelry. Polychrome painting, now completely worn away, enhanced the lifelike effect.