Jue (wine vessel)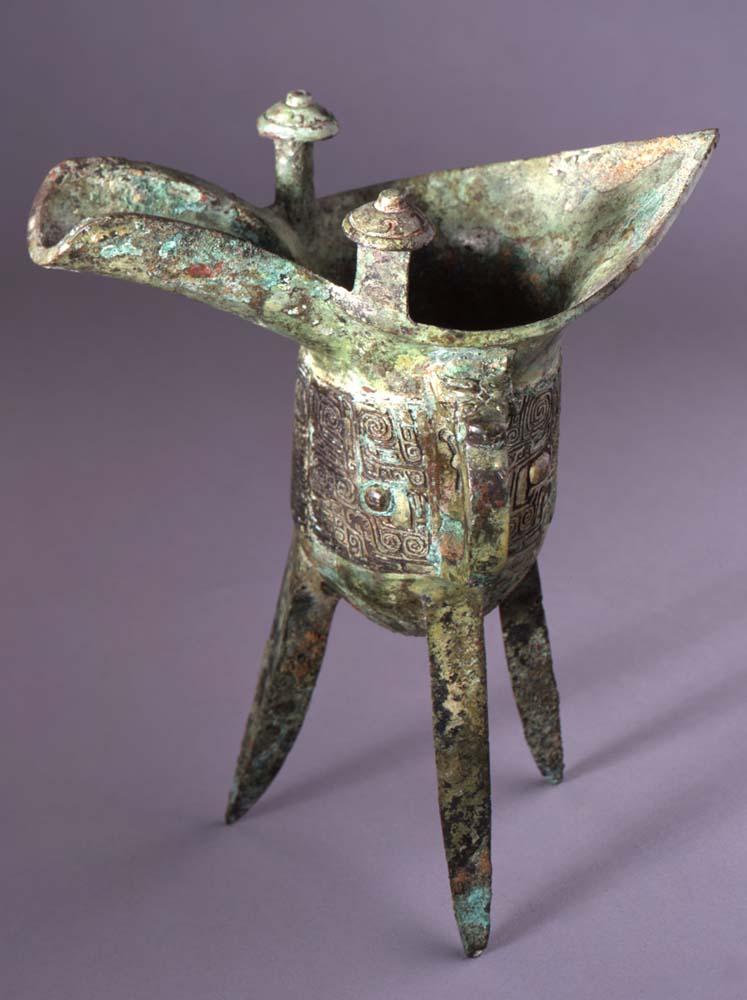 China, Henan province, Anyang, Jue (wine vessel), 13th century/early 12th century BCE, cast bronze with red, green, and turquoise patinas, Museum Purchase: Ella M. Hirsch Fund, public domain, 40.27
This work is on view.
Title

Jue (wine vessel)

Related Titles

original language: 商 青銅饕餮紋爵

Artist

Date

13th century/early 12th century BCE

Period

China: Shang Dynasty (ca. 1600-1100 BCE)

Medium

cast bronze with red, green, and turquoise patinas

Collection Area

Asian Art

Category

Ceremonial and Ritual Objects

Metalwork

Object Type

ritual vessel

Culture

Chinese

Credit Line

Museum Purchase: Ella M. Hirsch Fund

Accession Number

40.27

Copyright

public domain

Terms

Place Made

Created in: Anyang

Location
Ancestral rituals at the Shang royal court involved drinking copious amounts of wine, and many bronze vessels were designed to serve as wine containers, ewers, and goblets. This graceful wine cup, known as a jue, was reportedly found at Anyang, the ancient capital of the Shang dynasty, in 1940. A band of molded decoration at the waist depicts an early form of the taotie animal mask, while a bovine head adorns the handle. A two-character inscription, which has not yet been deciphered, appears under the handle.