The west wall of a funerary shrine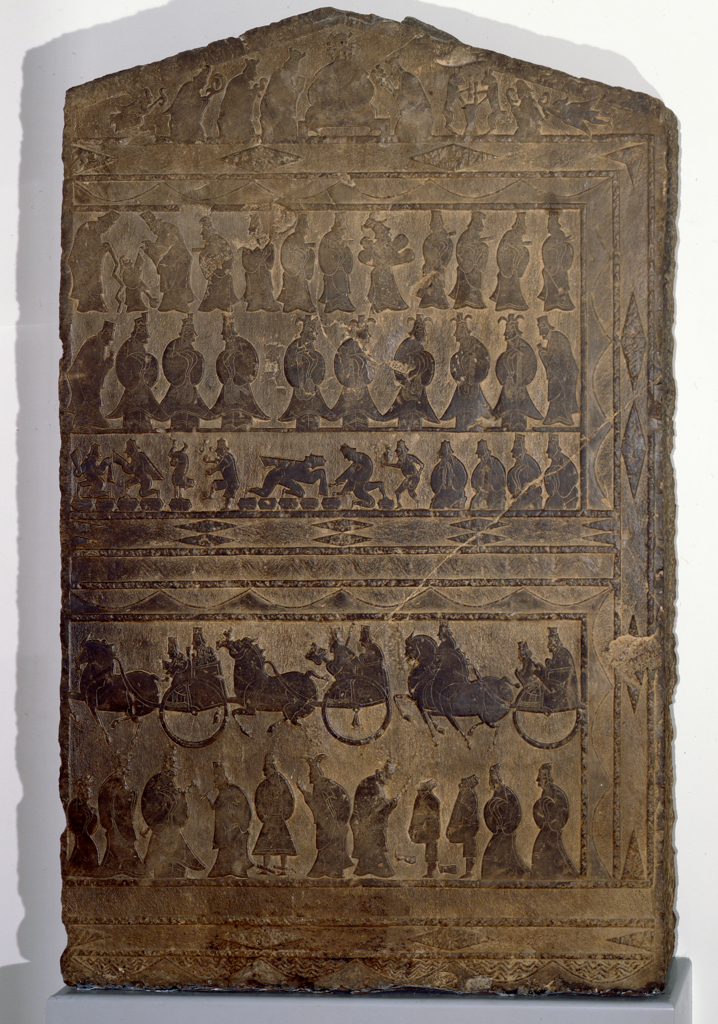 China, Shandong province, The west wall of a funerary shrine, mid-2nd century, limestone with carved and incised designs, Museum Purchase: Ella M. Hirsch Fund, public domain, 38.51
This work is on view.
Title

The west wall of a funerary shrine

Date

mid-2nd century

Period

China: Eastern Han period (25-220 CE)

Medium

limestone with carved and incised designs

Dimensions (H x W x D)

63 3/4 in x 39 1/2 in x 9 1/2 in

Collection Area

Asian Art

Category

Sculpture

Architectural Elements

Object Type

relief

architectural element

Culture

Chinese

Credit Line

Museum Purchase: Ella M. Hirsch Fund

Accession Number

38.51

Copyright

public domain

Terms

Place Made

Created in: Shandong Province

Location
This stone slab originally formed the western gable-end wall of a funerary shrine where family members could gather to pay reverence to their deceased ancestors.

The Queen Mother of the West, a Daoist deity whose cult thrived during the Han dynasty, presides over the entire scene. She is seated at top center, surrounded by her devotees. In her entourage are two rabbits that pound the magic elixir of immortality in a large pestle.

In the upper rectangular register, two rows of large figures depict famous characters from Chinese history and legend, while the smaller figures enact a performance of dancing and juggling on drums. In the lower register, a procession of chariots exits to the right. The bottom row may depict a magistrate (the tallest figure, and perhaps the chief tomb occupant) meting out punishment for criminals: two men have their legs severed below the knee, and another is in shackles.