Longquan ware funerary vessel with five spouts and lotus design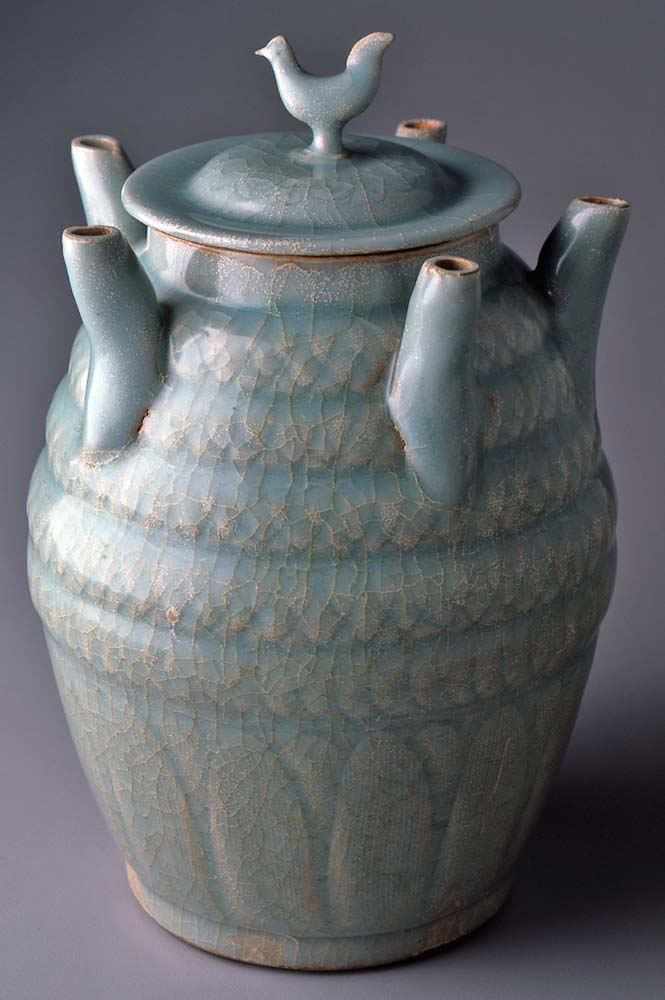 China, Zhejiang province, Longquan kilns, Longquan ware funerary vessel with five spouts and lotus design, 11th century (jar); 12th century (lid), light gray stoneware with molded and carved design under celadon glaze, Museum Purchase: Ella M. Hirsch Fund, public domain, 38.45
This work is on view.
Title

Longquan ware funerary vessel with five spouts and lotus design

Related Titles

display title: Funerary Jar with Five Spouts and Carved Lotus Design

display title: Longquan ware jar with five spouts and lotus design

Artist

Date

11th century (jar); 12th century (lid)

Period

China: Northern Song period (960-1127 CE)

China: Northern Song period (960-1127 CE)

Medium

light gray stoneware with molded and carved design under celadon glaze

Dimensions (H x W x D)

8 1/4 in x 3 1/4 in x 3 1/4 in diam.

Collection Area

Asian Art

Category

Ceramics

Object Type

jar

Culture

Chinese

Credit Line

Museum Purchase: Ella M. Hirsch Fund

Accession Number

38.45

Copyright

public domain

Terms

Place Made

Created in: Zhejiang

Location
Beginning in the late tenth century, the Longquan kilns in Zhejiang emerged as a dominant center for the production of high quality green-glazed stonewares. Longquan celadons range in color from teal to green to olive-brown, but all share a thin, dense, gray body and thick glaze, often applied in multiple layers. The glaze is slightly under-fired at a temperature of around 1200 ºC, which prevents it from fusing with the body. Air bubbles trapped in the glaze reflect light, giving the glaze a softly iridescent appearance. This lotus-shaped jar, with its five false "spouts," is thought to have been used in funerary rituals.