Gi (Righteousness), from the series Gojō (The Five Confucian Virtues)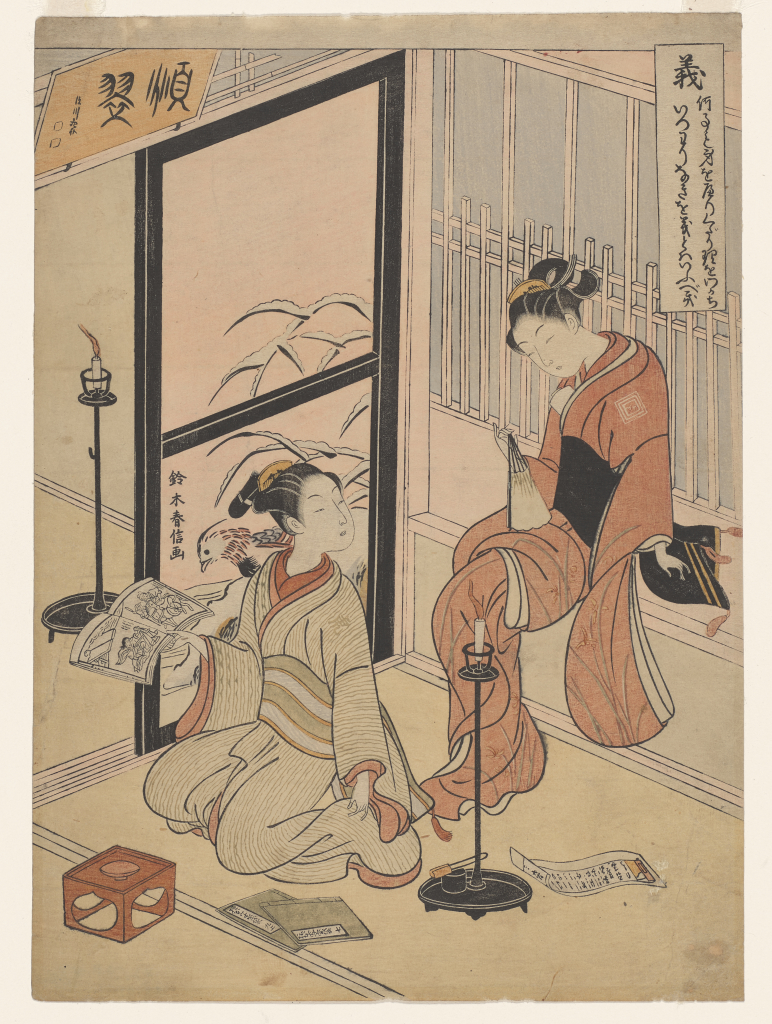 Suzuki Harunobu, Gi (Righteousness), from the series Gojō (The Five Confucian Virtues), 1767, color woodblock print with embossing on paper; chūban nishiki-e, Bequest of Winslow B. Ayer, public domain, 35.39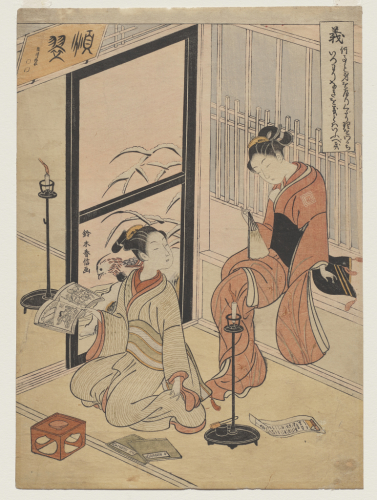 This work is not currently on view.
Title

Gi (Righteousness), from the series Gojō (The Five Confucian Virtues)

Related Titles

alternate; translated: Rectitude

original language: 義

series (original language): 五常

series (translated): The Five Confucian Virtues

series (transliterated): Gojō

translated: Righteousness

transliterated: Gi

Artist

Date

1767

Period

Japan: Edo period (1615-1868)

Medium

color woodblock print with embossing on paper; chūban nishiki-e

State

first state

Catalogue Raisonné

Chiba 2002, 166

Dimensions (H x W x D)

image: 10 7/8 in x 8 1/16 in; sheet: 11 3/8 in x 8 1/16 in

Inscriptions & Markings

inscription: jun-yoku [or jun-sui; see notes] // Fukagawa Shinna 順翠 // 深川親和 (in accordance with what is next [perhaps several puns intended here; see notes] // Fukagawa Shinna [aka Mitsui Shinna, 1700-1782, a popular calligrapher in Edo]), printed, upper left [on gaku calligraphy board] Language: Japanese

signature: Suzuki Harunobu ga 鈴木春信画 (picture [by] Suzuki Harunobu), printed, center left Language: Japanese

title; inscription: Gi / Nanigoto mo mi o herikudari ri o wakachi // itsuwari naki o gi to wa iubeki 義 / 何事も身をへりくだり理をわかち // いつわりなきを義とハいふべき (Rectitude: In all things to be humble, discern the path of reason, and abstain from falsehood--this is what we call rectitude), printed within rectangular cartouche, upper right Language: Japanese

Collection Area

Asian Art; Graphic Arts

Category

Prints

Japanese Traditional Prints

Object Type

relief print

Culture

Japanese

Credit Line

Bequest of Winslow B. Ayer

Accession Number

35.39

Copyright

public domain

Terms
This print is one of five to illustrate poems associated with traditional virtues of Confucian ideology. The setting here is probably a brothel that specialized in male prostitutes. The elegantly attired figures are looking at picture books by candlelight. Although the poems in the series seem to have been written in a rather serious vein, the two young men seem to be simply passing the time. A sake cup sits on a stand, and the book—open to a scene of a famously morally righteous warrior—is a well-known drawing manual, Tachibana Morikuni's Illustrated Book of the Treasure-Bag of Sketches (1720).

Blind-embossing enhances the stems of the irises of the right-hand figure's robe as well as the white snow piled on the reeds of the painted screen.