Sugoroku no kenka (Children Quarreling over a Sugoroku Game)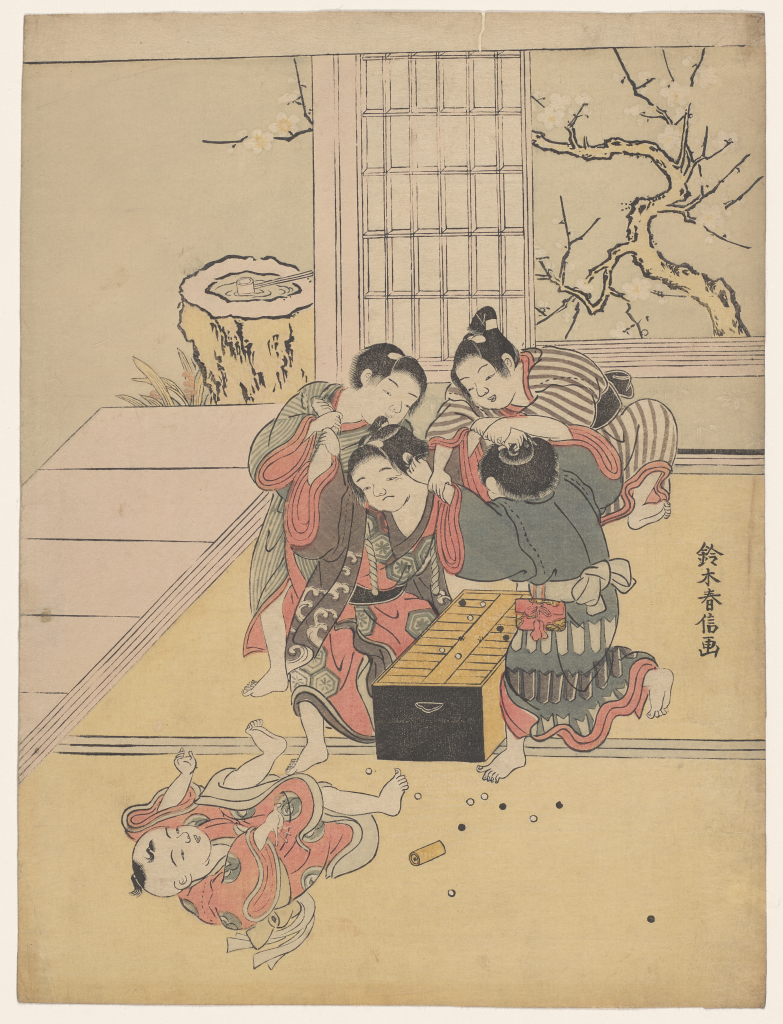 Suzuki Harunobu, Sugoroku no kenka (Children Quarreling over a Sugoroku Game), ca. 1768-1770, color woodblock print with embossing on paper; chūban nishiki-e, The Mary Andrews Ladd Collection, public domain, 32.89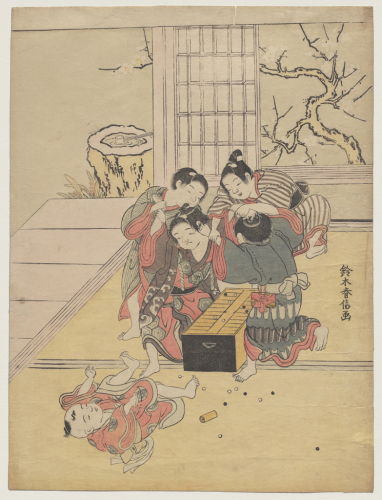 This work is not currently on view.
Title

Sugoroku no kenka (Children Quarreling over a Sugoroku Game)

Related Titles

catalog entry; descriptive: Children Quarreling over a Sugoroku Game

original language: 双六のけんか

transliterated: Sugoroku no kenka

Artist

Date

ca. 1768-1770

Medium

color woodblock print with embossing on paper; chūban nishiki-e

Catalogue Raisonné

Ukiyoe shūka v. 9, fig. 16

Dimensions (H x W x D)

image: 10 3/4 in x 8 3/8 in; sheet: 11 1/8 in x 8 3/8 in

Inscriptions & Markings

signature: Suzuki Harunobu ga 鈴木春信画 (picture [by] Suzuki Harunobu), printed in black, center right Language: Japanese

Collection Area

Asian Art; Graphic Arts

Category

Prints

Japanese Traditional Prints

Object Type

relief print

Culture

Japanese

Credit Line

The Mary Andrews Ladd Collection

Accession Number

32.89

Copyright

public domain

Terms
Harunobu designed a number of charming scenes of daily life, especially children at play. Here a board game of sugoroku has been interrupted by a fight between its main players. The young boys wrestling wear richly patterned robes, suggesting that they are from wealthy households and perhaps indicating a special occasion, such as a New Year's celebration.