Hibun (A Secret Missive)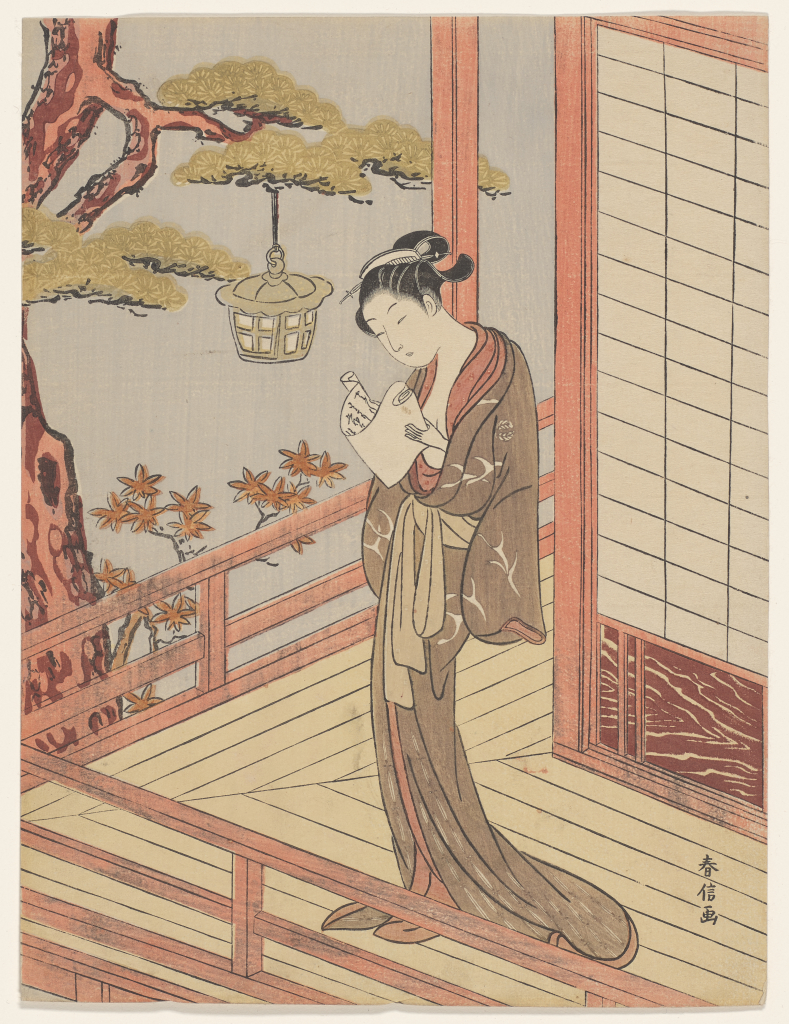 Suzuki Harunobu, Hibun (A Secret Missive), 1767/1768, color woodblock print with embossing on paper; chūban nishiki-e, The Mary Andrews Ladd Collection, public domain, 32.78
This work is not currently on view.
Title

Hibun (A Secret Missive)

Related Titles

alternate; original language: 秘文

alternate; transliterated: Hibun

catalog entry; descriptive: A secret missive

Artist

Date

1767/1768

Medium

color woodblock print with embossing on paper; chūban nishiki-e

Catalogue Raisonné

Ukiyoe shūka v. 9, pl. 87; Waterhouse 2013, 226-227

Dimensions (H x W x D)

image/sheet: 10 1/2 in x 7 15/16 in

Inscriptions & Markings

signature: Harunobu ga 春信画 (picture [by] Harunobu), printed in black relief, lower right Language: Japanese

Collection Area

Asian Art; Graphic Arts

Category

Prints

Japanese Traditional Prints

Object Type

relief print

Culture

Japanese

Credit Line

The Mary Andrews Ladd Collection

Accession Number

32.78

Copyright

public domain

Terms
Lovers are often implied in Harunobu's designs. Here a young woman, casually dressed, stands on an upper balcony. She clutches a letter close to her face, reading by the light of a hanging lamp. Her soft brown kimono, which may have originally been a muted purple, has a design of deer antlers on the sleeves. In Japanese poetry, the cry of the deer was invariably associated with the stag calling for his mate in autumn. Her clothing motifs reinforce both the seasonal theme, set by the red maple leaves in the garden, and the implication of a lover as the source of the missive.