The Faithful Wife, from the Kawachigoe Episode of The Tales of Ise: Calendar Print for 1765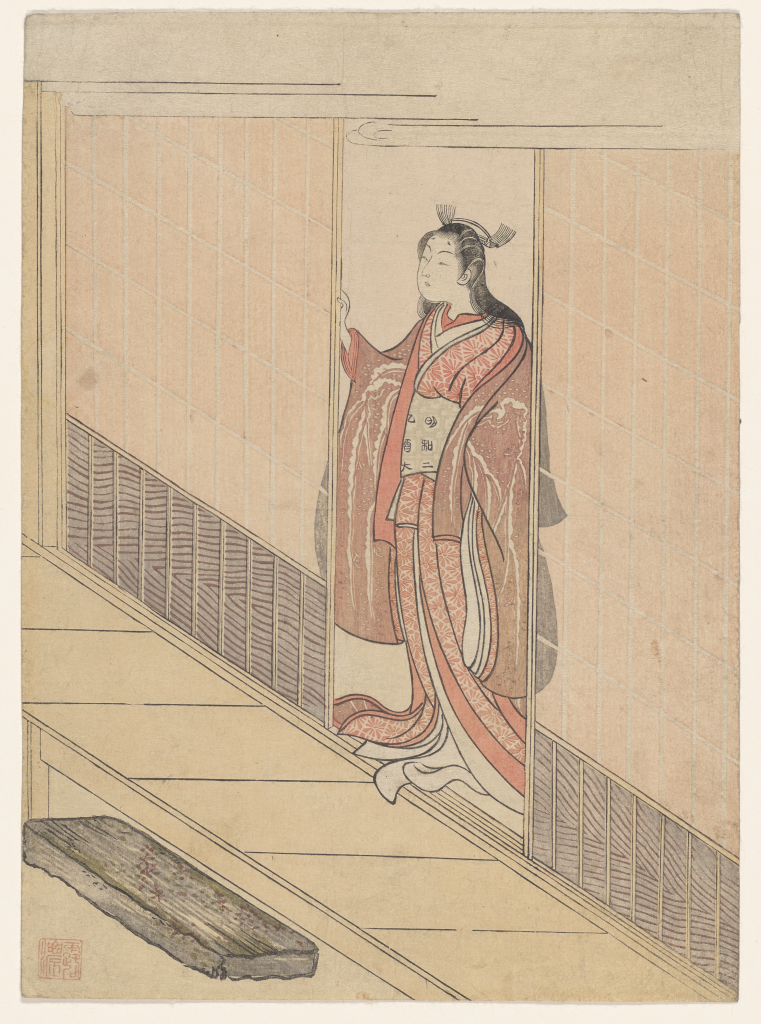 Suzuki Harunobu, The Faithful Wife, from the Kawachigoe Episode of The Tales of Ise: Calendar Print for 1765, 1765, color woodblock print with embossing on paper; chūban nishiki-e; right sheet of a diptych, The Mary Andrews Ladd Collection, public domain, 32.68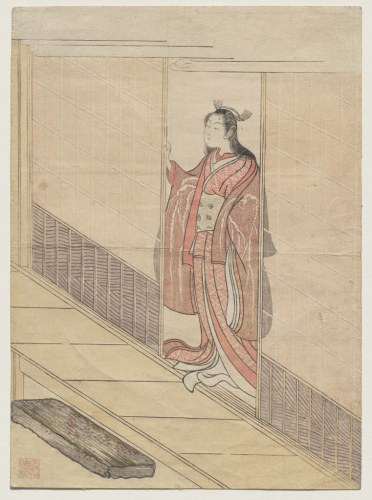 This work is not currently on view.
Title

The Faithful Wife, from the Kawachigoe Episode of The Tales of Ise: Calendar Print for 1765

Artist

Date

1765

Medium

color woodblock print with embossing on paper; chūban nishiki-e; right sheet of a diptych

State

first state

Catalogue Raisonné

Chiba 2002, 42; Waterhouse 2013, 61-62

Dimensions (H x W x D)

image/sheet: 10 3/4 in x 7 13/16 in

Inscriptions & Markings

inscription: 小 正 四 七 九 十一 十二, printed [in reserve], center [hidden within design on furisode (long sleeves)

inscription: 明和二乙酉大, printed [with keyblock], center [within obi]

seal: 露濃, printed in red relief, lower left

Collection Area

Asian Art; Graphic Arts

Category

Prints

Japanese Traditional Prints

Object Type

relief print

Culture

Japanese

Credit Line

The Mary Andrews Ladd Collection

Accession Number

32.68

Copyright

public domain

Terms
For this calendar print, Harunobu drew on The Tales of Ise, a tenth-century literary classic. In this episode, a man set out to visit his mistress, but then worried that his wife was entertaining a lover in his absence. He hid behind a fence to watch, and at nightfall his wife stepped out on the veranda—alone. Gazing wistfully at the moon, she recited a poem of concern for his safety. He realized the error of his ways and was faithful to her thereafter. With utmost delicacy, Harunobu captures the poignant moment when she has just opened the sliding doors. The shadow of her robe on the screen, cast by an unseen lantern inside the room, subtly indicates the evening hour. The calendrical clues are hidden in the design of her garments.