Carp Ascending a Waterfall

Itō Jakuchū, Carp Ascending a Waterfall, 1798, hanging scroll; ink on paper, Museum Purchase: 2013 New for the Wall, funds provided by Mia Hervin Moore in memory of Maria Easterly Hervin, public domain, 2013.16.1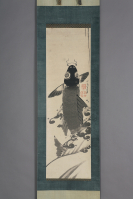 This work is not currently on view.
Title

Carp Ascending a Waterfall

Related Titles

original language: 鯉の滝登り図

Artist

Date

1798

Medium

hanging scroll; ink on paper

Dimensions (H x W x D)

painting: 40 5/8 in x 14 3/8 in; mounting: 71 1/4 in x 17 in

Inscriptions & Markings

seals: 1) Tô Jokin in; 2) Jakuchū koji 藤汝釣印・若沖居士, vernillion seals, center right edge Language: Japanese Description: 「藤汝釣印」(白文方形)「若沖居士」(白文円形)

inscription: Beitoô hachijûsan nen ga 米斗翁八十三年画 (Painted by Old Man Beito at age eighty-three), brushed in ink, center right Language: Japanese

Collection Area

Asian Art

Category

Paintings

Object Type

hanging scroll

Culture

Japanese

Credit Line

Museum Purchase: 2013 New for the Wall, funds provided by Mia Hervin Moore in memory of Maria Easterly Hervin

Accession Number

2013.16.1

Copyright

public domain

Terms

Place Made

Created in: Kyoto
Based in Kyoto, Japan's cultural center, Itō Jakuchū drew on exciting developments in eighteenth-century painting—in particular, new emphases on self-expression and the direct observation of nature—while retaining reverence for older traditions of Zen art. Largely self-trained, he created a unique and utterly fresh style that won wide acclaim among his contemporaries. Today Jakuchū is regarded as one of the most innovative painters in Japanese history.

Born as the fourth-generation head of a family of Kyoto greengrocers, Jakuchū was assured a comfortable livelihood. His reclusive personality, however, was at odds with the demands of commerce. More at home with animals than with people, Jakuchū found solace in Zen. He left the family business to concentrate on his sole obsession: painting.

Jakuchū painted "Carp Ascending a Waterfall" at age eighty-three, near the end of his life. According to an ancient Chinese legend, fish that swim upstream past the steep falls at Longmen (Dragon Gate) on the Yellow River—a daunting task—will turn into dragons. The image of a fish climbing a waterfall became a symbol for striving for success, and paintings of this subject were popular among Kyoto's bourgeoisie. Jakuchū chose to render the subject in monochrome ink, the traditional medium for Zen meditational paintings. With wit and bravado brushwork, he conveys both the downward force of the tumbling waters and the soaring energy of the carp.