Bird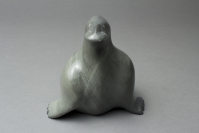 Charlie Kittosuk, Bird, 1988, argillite, Gift of Meredith and Robert Amon, © unknown, research required, 2012.127.8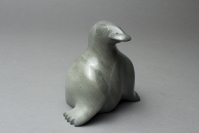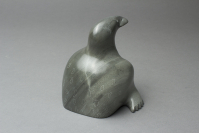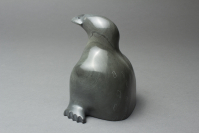 This work is not currently on view.
Title

Bird

Artist

Date

1988

Medium

argillite

Dimensions (H x W x D)

5 1/4 in x 5 1/2 in x 4 in

Collection Area

Native American Art; Modern and Contemporary Art

Category

Arctic

Sculpture

Object Type

sculpture

Culture

American

Cultural Group

Inuit

Tribe/Nation

Sanikiluaq

Credit Line

Gift of Meredith and Robert Amon

Accession Number

2012.127.8

Copyright

© unknown, research required

Terms
Carvings from Sanikiluaq, in the Belcher Islands of Hudson Bay, are popular with art collectors. Although human subjects are produced, it is the representations of Arctic wildlife, particularly birds, which have created a heightened demand for Sanikiluaq carvings. These elegant works are often incised with minute detail. Their popularity is further enhanced by the argillite stone from which they are carved. This stone has a distinctive striped grain and light green color, which takes a beautiful polish. These carvings are depicted realistically, but often in unusual poses or exaggerated proportions.