Letter (Calligraphy)


Chūhō Sōu, Letter (Calligraphy), 1807/1836, handscroll mounted as a hanging scroll; ink on paper, Gift of Mary and Cheney Cowles, public domain, 2012.119.1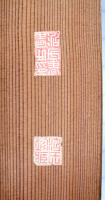 This work is not currently on view.
Title

Letter (Calligraphy)

Artist

Date

1807/1836

Medium

handscroll mounted as a hanging scroll; ink on paper

Dimensions (H x W x D)

painting: 6 3/4 in x 28 1/2 in

Inscriptions & Markings

collector's mark: 2 collector's seals; as yet undeciphered, interior of box

inscription: 宙寳禅_消息, exterior of box

Collection Area

Asian Art

Category

Calligraphy

Object Type

hanging scroll

Culture

Japanese

Credit Line

Gift of Mary and Cheney Cowles

Accession Number

2012.119.1

Copyright

public domain

Terms
Chūhō Sōu is considered the leading Zen calligrapher of the late Edo period (1615–1868). He served as the 418th Abbot of Daitokuji, one of Japan's largest and most influential Buddhist monasteries. His bold, direct personality is revealed even here, in the informal medium of a letter. The addressee is unknown.