Les Trente-Six Vues de la Tour Eiffel (Thirty-Six Views of the Eiffel Tower)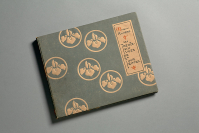 Henri Rivière, Les Trente-Six Vues de la Tour Eiffel (Thirty-Six Views of the Eiffel Tower), 1902, illustrated bound book with thirty-six lithographs, housed in a paperboard slipcase, Museum Purchase: Jean Y. Roth Memorial Fund, © artist or other rights holder, 2012.104.1a,b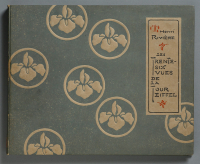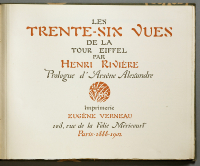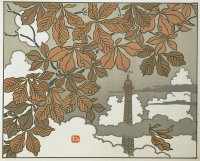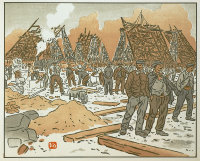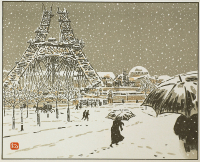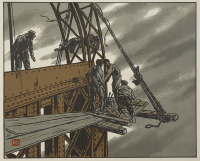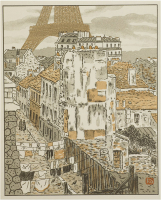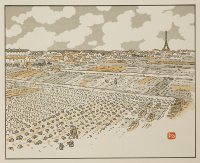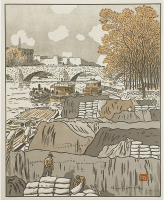 This work is not currently on view.
Title

Les Trente-Six Vues de la Tour Eiffel (Thirty-Six Views of the Eiffel Tower)

Related Titles

portfolio: Les Trente-Six Vues de la Tour Eiffel

translated: Thirty-Six Views of the Eiffel Tower

Artist

Related People

designed by: Georges Auriol (French, 1863-1938)

publisher: Eugène Verneau (French, active early 20th century)

Date

1902

Medium

illustrated bound book with thirty-six lithographs, housed in a paperboard slipcase

Edition

unnumbered copy from a projected edition of 500

Dimensions (H x W x D)

book: 9 1/4 in x 11 1/2 in x 5/8 in; each sheet: 9 in x 10 1/2 in; case: 9 1/2 in x 11 3/4 in x 1 in

Collection Area

Graphic Arts

Category

Books, Portfolios, and Manuscripts

Prints

Object Type

planographic print

album

Culture

French

Credit Line

Museum Purchase: Jean Y. Roth Memorial Fund

Accession Number

2012.104.1a,b

Copyright

© artist or other rights holder

Terms
Henri Rivière's bound volume of thirty-six color lithographs embodies the Art Nouveau livre d'artiste. It has an elegant japoniste design, and every detail was specially handled; tinted wove paper was manufactured exclusively for the publication by the Rives paper mill, and the typeface was set by Art Nouveau designer George Auriol, who also designed the slipcase which is embossed with a stylized iris motif.

Rivière drew on Japanese precedents such as Katsushika Hokusai's Thirty-Six Views of Mount Fuji (1826–1833) for his exploration of the Eiffel Tower, built for the 1889 World's Fair. By the time the volume was published, the excitement over the tower had faded, and the book was a commercial failure. Far fewer than the anticipated five hundred copies were printed, making the books highly sought after today.