Pair of George II Figural Candlesticks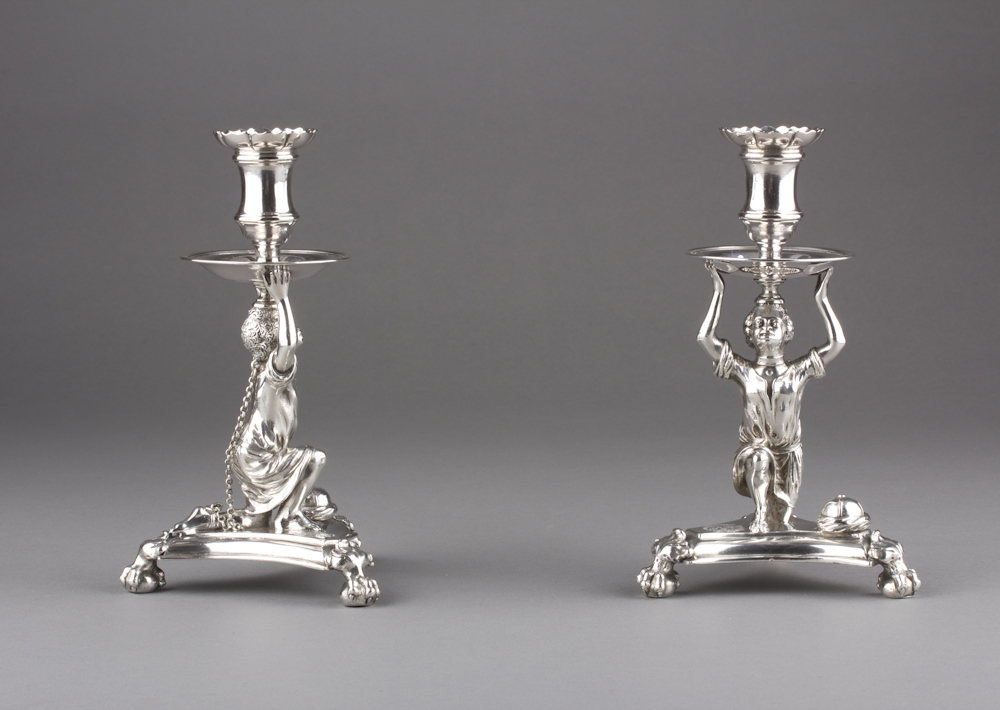 Francis Nelme, Pair of George II Figural Candlesticks, 1730, silver, Museum Purchase: The William H. Nunn Trust Fund, established in memory of his wife, Alice B. Nunn, public domain, 2012.82.1a,b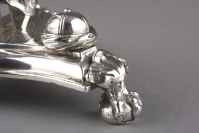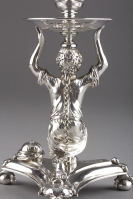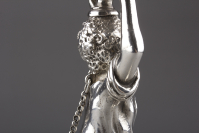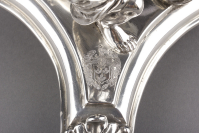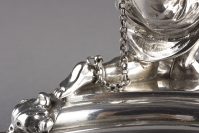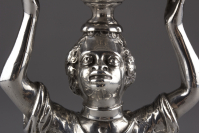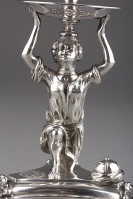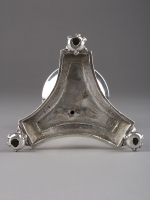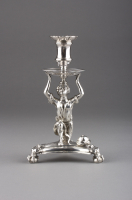 This work is on view.
Title

Pair of George II Figural Candlesticks

Artist

Date

1730

Medium

silver

Dimensions (H x W x D)

each: 8 1/4 in x 5 in x 5 in

Collection Area

Western Decorative Art

Category

Silver

Object Type

candlestick

Culture

English

Credit Line

Museum Purchase: The William H. Nunn Trust Fund, established in memory of his wife, Alice B. Nunn

Accession Number

2012.82.1a,b

Copyright

public domain

Terms

Location
Inspired by the figural stems of Renaissance cups and vessels, this important pair of candlesticks featuring kneeling, chained African slaves is part of a very small group of surviving English candlesticks first produced by Anthony Nelme (active 1685, died 1722) and revived by his son Francis Nelme in 1730. Bearing the arms and crest of Thruston of Virginia—a slave owning family who settled in the Virginia colony in the 1680s—the candlesticks, which descended through the family until 1946, embody the taste for blackamoors and illuminate an aspect of slave owning culture.

From the 17th century onwards it was considered the height of fashion in the capitals of Europe to have a young African boy or girl as a servant companion. The London Daily Journal for September 28, 1728, includes an advertisement for the return of a runaway slave, said to wear a collar engraved "My Lady Bromfield's black in Lincoln Inn Fields"—a stylish address of the day. Tradesmen provided the means of oppression, such as Matthew Dyer, a goldsmith working at the sign of the Crown in Duck Lane, Orchard Street, Westminster, who advertised that he made "Silver Padlocks for Blacks or Dogs, Collars &c." These candlesticks tangibly present the human degradation of slavery and the slave trade, which was finally abolished in England in 1833, and in the United States with the Civil War and Thirteenth Amendment to the Constitution in 1865.