Title Page, Table of Contents, and Colophon, from Portfolio One: Twelve Photographic Prints by Ansel Adams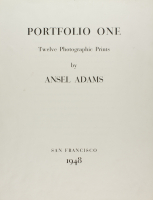 Ansel Adams, Title Page, Table of Contents, and Colophon, from Portfolio One: Twelve Photographic Prints by Ansel Adams, 1948, letterpress on paper, Museum Purchase: Caroline Ladd Pratt Fund, © artist or other rights holder, 51.211n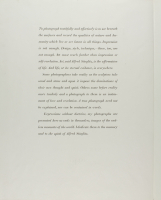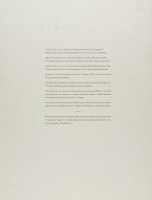 This work is not currently on view.
Title

Title Page, Table of Contents, and Colophon, from Portfolio One: Twelve Photographic Prints by Ansel Adams

Related Titles

portfolio: Portfolio One: Twelve Photographic Prints by Ansel Adams

Artist

Related People

dedicated to: Alfred Stieglitz (American, 1864-1946)

publisher: Grabhorn Press (American, 1919/1920-1965)

Date

1948

Medium

letterpress on paper

Collection Area

Photography

Category

Books, Portfolios, and Manuscripts

Photographs

Object Type

photograph

Culture

American

Credit Line

Museum Purchase: Caroline Ladd Pratt Fund

Accession Number

51.211n

Copyright

© artist or other rights holder

Terms
Adams produced seven portfolios between 1948 and 1976. A prolific printer who created every image himself, he made more than 13,000 photographs by hand for these seven sets. Only seventy-five copies of Portfolio One were made, initially selling for $100 each.

Primarily composed of landscape images made in the mid-1940s (a studio fire in 1938 destroyed most of Adams's earlier negatives), the set also features a 1938 portrait of Alfred Stieglitz, mentor and friend to Adams since 1933. He released the portfolio just two years after Stieglitz's death, dedicating it to the tireless champion of photography and modern art: "Expressions without doctrine, my photographs are presented here as ends in themselves, images of the endless moments of the world. I dedicate them to the memory and to the spirit of Alfred Stieglitz."