Gateway - Hidalgo, from the portfolio Photographs of Mexico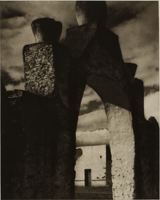 Paul Strand, Gateway - Hidalgo, from the portfolio Photographs of Mexico, 1933 (negative); 1940 (print), photogravure, © artist or other rights holder, 80.2t
This work is not currently on view.
Title

Gateway - Hidalgo, from the portfolio Photographs of Mexico

Related Titles

original language: Gateway - Hidalgo

portfolio: Photographs of Mexico

Artist

Date

1933 (negative); 1940 (print)

Medium

photogravure

Collection Area

Photography

Category

Books, Portfolios, and Manuscripts

Photographs

Object Type

photograph

Culture

American

Accession Number

80.2t

Copyright

© artist or other rights holder

Terms
First published in 1940, Photographs of Mexico is drawn from Strand's 1932–1934 journeys to multiple states surrounding Mexico City, places where the social aftermath of the Mexican Revolution remained palpable. The portfolio suggests the evolution of his "collective portrait" method: the artist photographed individuals, the landscape, architecture, and handmade goods to give a fuller understanding of a region and its culture. He would later apply this method to New England, France, Italy, Egypt, Ghana, and the Outer Hebrides. A socially conscious photographer, Strand hoped that his collective portraits would foster positive change in the world.

Photographs of Mexico was limited to 250 copies, and was reissued as The Mexican Portfolio in 1967. The hand-pulled photogravures—lush, detailed prints made from photographic images that were transferred to an etching plate and run through a printing press—were brushed with Damar varnish, adding to their deep sepia tone.