Chiyoda no on omote, zen (The Outer Precincts of Chiyoda Palace, complete)


Hashimoto Chikanobu, Chiyoda no on omote, zen (The Outer Precincts of Chiyoda Palace, complete), 1897, color woodblock print on paper; ōban nishiki-e; accordion-fold album, Gift of an Anonymous Donor, public domain, 2009.56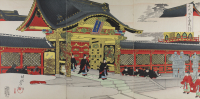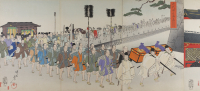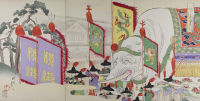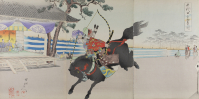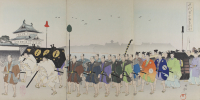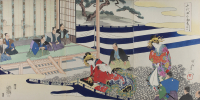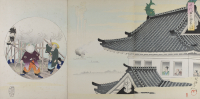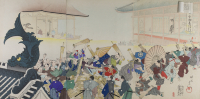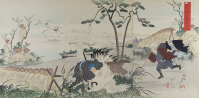 This work is not currently on view.
Title

Chiyoda no on omote, zen (The Outer Precincts of Chiyoda Palace, complete)

Artist

Date

1897

Medium

color woodblock print on paper; ōban nishiki-e; accordion-fold album

Dimensions (H x W x D)

each sheet: 13 7/8 in x 9 3/4 in

Inscriptions & Markings

publisher's telephone: Denwa Naniwa nijôyon ba 電話浪花二九四番 (Phone: Naniwa 249), printed in red ink, lower left Language: Japanese

publisher's mark: 明治三十年三月三十日印刷 仝 年四月三十日発行 日本バシ区長谷川丁十九バンチ 臨写印刷兼発行者 福田初次郎 (Printed Meiji 30 (1897), 3rd month, 3rd pay: issued same year, 4th mohth, 30th day. [address:0 Nihionbshi-ku, Hasegawas-chô, no. 19. Printed and published by Fukuda Hatsujirô), printed in red ink, in twin fish cartouche, lower left Language: Japanese

carver's seal: Hori Ei II Hori Ei II (Hori Ei), printed in red, lower left Language: Japanese

signature: Yōshū Chikanobu 揚州周延 (Yōshū Chikanobu), printed in black, lower left Language: Japanese

Collection Area

Asian Art; Graphic Arts

Category

Books, Portfolios, and Manuscripts

Japanese Traditional Prints

Object Type

album

relief print

Culture

Japanese

Credit Line

Gift of an Anonymous Donor

Accession Number

2009.56

Copyright

public domain

Terms
From the ninth century onward, equestrian archery was the quintessential skill of the Japanese warrior. Even as the bow and arrow were supplanted by spears and guns, equestrian archery or yabusame retained its prestige and was fostered through ceremonial competitions.

Here, in a triptych that is part of a larger volume of scenes of life at Edo Castle, a samurai demonstrates his prowess at yabusame for the shogun. Galloping at top speed, he stands in his stirrups and aims at a small wooden target. During his run, he will shoot at three targets set 50 yards apart.

The sport of yabusame survives today and is most often enacted at Shinto shrines throughout Japan, where it is presented as an offering to the gods.