The Virgin with the Long Thigh (Holy Family with the Young Saint John the Baptist)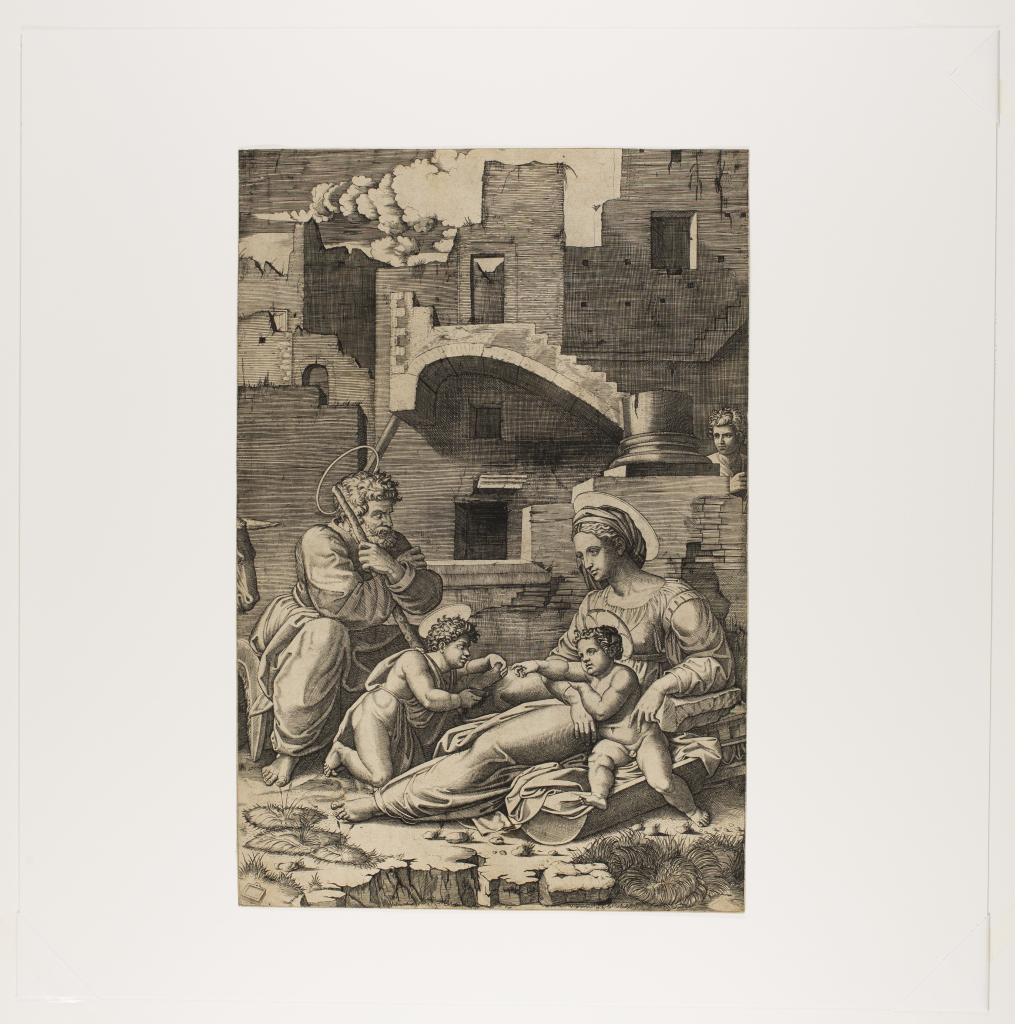 Marcantonio Raimondi, The Virgin with the Long Thigh (Holy Family with the Young Saint John the Baptist), 1520/1525, engraving on paper, Museum Purchase: Elly Guerin Jackson Memorial Fund, public domain, 2008.77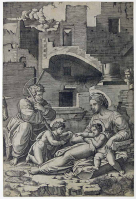 This work is not currently on view.
Title

The Virgin with the Long Thigh (Holy Family with the Young Saint John the Baptist)

Artist

Date

1520/1525

Period

High Renaissance (late 15th-1520s)

Medium

engraving on paper

Dimensions (H x W x D)

image/sheet: 15 11/16 in x 10 1/2 in

Inscriptions & Markings

watermark: A Greek cross, resting on a three-pronged suppport. A small circle is found beneath each horizontal arm and above the support

collector's mark: IR (intertwined); Lugt 1522, violet ink, verso; lower right

collector's mark: HST; Lugt 1374, violet ink, verso; lower left

inscription: G9264/2TT, graphite, verso; lower right

inscription: B.57/Coll. Theobald, graphite, verso; lower middle

Collection Area

Graphic Arts

Category

Prints

Object Type

intaglio print

Culture

Italian

Credit Line

Museum Purchase: Elly Guerin Jackson Memorial Fund

Accession Number

2008.77

Copyright

public domain

Terms
Marcantonio Raimondi's fame rests on his role as a masterful engraver after other artists' work. He is credited with pioneering the reproduction of artwork in prints, and created more than three hundred prints based on other artists' designs, most notably after Raphael's drawings. In this sheet, which art historians think is based on a painting by Giulio Romano, Marcantonio used a firm, controlled line to capture the sculptural forms of the figures and the imposing classical landscape, creating a moment that appears to be frozen in time.

Marcantonio's skill at copying other artists' work occasionally got him into trouble; in 1506, Albrecht Dürer logged a successful protest in the Venetian Senate against the Italian artist for plagiarizing his woodcuts, complete with Dürer's monogram.