Ganesha, Lord of Obstacles

Bihar or Bengal, India, or Bangladesh, Ganesha, Lord of Obstacles, 11th century, gray schist, Museum Purchase: Funds provided by Mr. and Mrs. Hugh McCall by exchange, public domain, 2008.66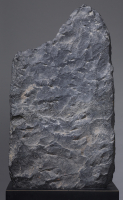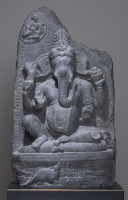 This work is on view.
Title

Ganesha, Lord of Obstacles

Artist

Date

11th century

Period

Pala Period (mid-8th-mid-12th century)

Medium

gray schist

Dimensions (H x W x D)

35 3/4 in x 18 in x 6 in

Collection Area

Asian Art

Category

Sculpture

Object Type

sculpture

Culture

Indian

Credit Line

Museum Purchase: Funds provided by Mr. and Mrs. Hugh McCall by exchange

Accession Number

2008.66

Copyright

public domain

Terms

Location
This carved stone stele presents the elephant-headed Hindu god Ganesha, one of the most widely worshipped deities in India. Because Ganesha removes obstacles to material success and spiritual progress, he is invoked at the start of each day or at the outset of any important project. Like his father Shiva, Ganesha is a master of yoga and dancing; he is also the patron deity of wisdom, literature, and the pursuit of knowledge.

Ganesha sits erect on a cushion in the pose of royal ease, with one knee raised and the other relaxed. His plump body gives him a charming, childlike appearance, but to the philosophically inclined, his big belly signifies that Ganesha contains all the universes—past, present, and future. His garments, a kilt-like dhoti and a shawl draped across his chest, are indicated by shallow incised designs. In his four arms he holds various implements that express aspects of his personality: with his front right hand, he gestures reassurance, while his front left hand—now broken off—would have held an axe, providing protection for his followers. With his rear hands he holds a radish and a bowl of sweets, the latter symbolizing spiritual bliss.

Ganesha is attended by a celestial devotee who flies in from the upper left, bearing a garland, and by Mushika, the mouse who serves as his mount. The rodent can gnaw its way through almost any material and squeeze through narrow openings, so it knows no obstacles, making it the perfect servant for Ganesha.

This Ganesha is carved from a large block of schist, a type of metamorphic rock commonly found in sculptures from northeastern India and Bangladesh. Schist is a fine-grained stone that will retain an incised or carved design for centuries, but with a drawback: it easily splits into flakes or slabs. Such exfoliation is clearly visible at the upper right, where part of Ganesha's aureole has broken away.