Un coup de dés jamais n'abolira le hasard (A Throw of the Dice Will Never Abolish Chance) by Stéphane Mallarmé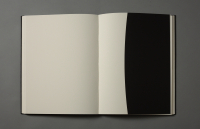 Ellsworth Kelly, Un coup de dés jamais n'abolira le hasard (A Throw of the Dice Will Never Abolish Chance) by Stéphane Mallarmé, 1992, illustrated book of 11 lithographs with text by Stéphane Mallarmé (French, 1842-1898); leather-bound and housed in a cloth-covered clamshell box, The Carol and Seymour Haber Collection, © unknown, research required, 2008.73.6a,b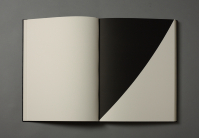 This work is not currently on view.
Title

Un coup de dés jamais n'abolira le hasard (A Throw of the Dice Will Never Abolish Chance) by Stéphane Mallarmé

Artist

Related People

Date

1992

Medium

illustrated book of 11 lithographs with text by Stéphane Mallarmé (French, 1842-1898); leather-bound and housed in a cloth-covered clamshell box

Edition

233/300

Dimensions (H x W x D)

book: 17 1/4 in x 13 in x 1 1/4 in; each image/sheet: 17 in x 12 3/8 in; box: 18 1/4 in x 13 15/16 in x 2 3/16 in

Inscriptions & Markings

edition number: 233, graphite, colophon page, c.c.

signature: Kelly, graphite, colophon page, c.c.

Collection Area

Graphic Arts

Category

Books, Portfolios, and Manuscripts

Prints

Object Type

book

planographic print

Culture

American

Credit Line

The Carol and Seymour Haber Collection

Accession Number

2008.73.6a,b

Copyright

© unknown, research required

Terms
Ellsworth Kelly's spare black shapes—squares, ellipses, and curves—are placed with as much care as Mallarmé's text, which floats over the page in a seemingly arbitrary, but carefully considered and highly poetic typographical arrangement conceived by the poet in 1897.

In this volume, the images and text are never found on the same spread, and thus do not directly interact; instead, text and image are equal partners, each respecting the integrity of the other in this thoughtful and rigorous design.