Paired Kaioke (Shell Game) Octagonal Boxes, with Clamshell Paintings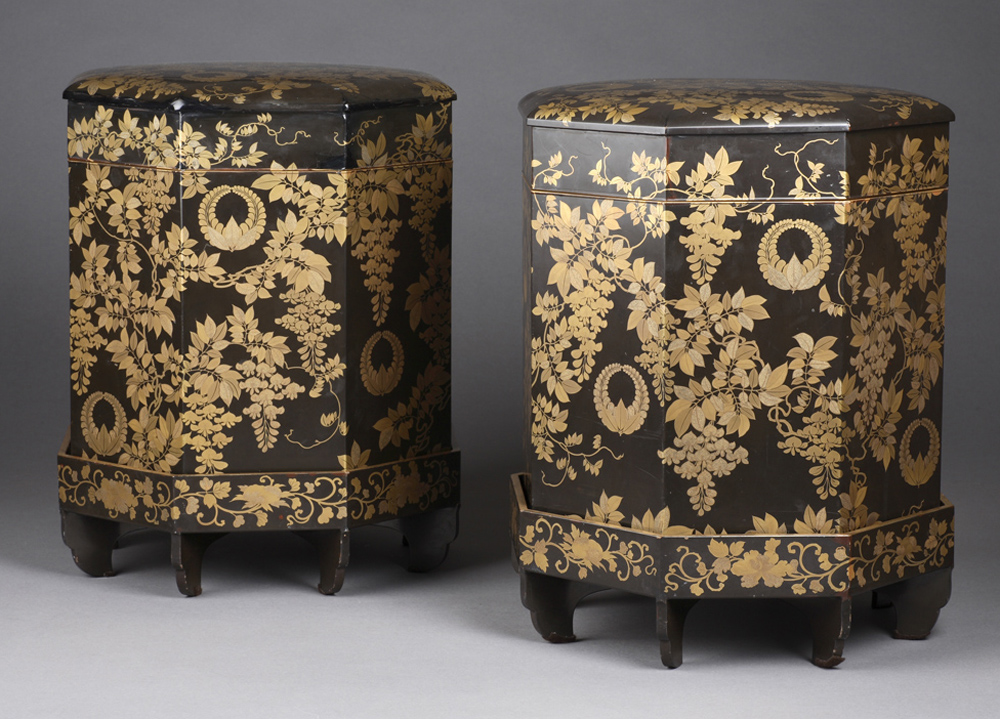 Japan, unknown artist, Paired Kaioke (Shell Game) Octagonal Boxes, with Clamshell Paintings, 18th century, Kaioke boxes: turned wood with black lacquer and gold maki-e decoration; clamshells painted with mineral pigments and gold, Gift of Mr. and Mrs. Alan Goldsmith, public domain, 2008.79
This work is not currently on view.
Title

Paired Kaioke (Shell Game) Octagonal Boxes, with Clamshell Paintings

Related Titles

descriptive: Shell game with lacquer container

original language: 貝桶

Date

18th century

Medium

Kaioke boxes: turned wood with black lacquer and gold maki-e decoration; clamshells painted with mineral pigments and gold

Dimensions (H x W x D)

18 in x 14 5/16 in

Collection Area

Asian Art

Category

Lacquerware

Object Type

box

shell

painting

Culture

Japanese

Credit Line

Gift of Mr. and Mrs. Alan Goldsmith

Accession Number

2008.79

Copyright

public domain

Terms
Shell-matching games had been popular among noblewomen of Japan as far back as the tenth century. Identical scenes were painted on the two halves of 90 clamshells. The shells would be spread out on the floor, face up. The goal was to be first to find and collect matching pairs—but there was a catch: to claim a shell and its lid, one had to compose a short, appropriate poem.

Because each shell has only one lid, shell-matching became associated with a woman's fidelity to her husband. During the Edo period (1615–1868), shell game sets became a favorite item among high-ranking families for bridal trousseaus. This set is a typical example of shell game sets of the eighteenth century.

The shells are kept in a pair of octagonal boxes of lacquered wood, known as kai oke ("shell buckets"). This example is decorated with wisteria vines and family crests in gold inlay, and rest on a custom-designed stand.