Still Life with Flowers, Fruits, a Parrot and a Monkey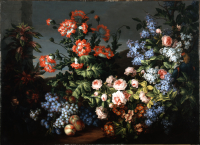 Jean-Baptiste Monnoyer; Antoine Monnoyer, Still Life with Flowers, Fruits, a Parrot and a Monkey, 1690/1699, oil on canvas, Museum Purchase: Support provided by Laura and Roger Meier through the Director's Fund and the North Building Campaign, public domain, 2004.1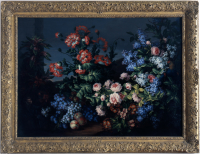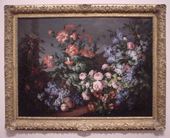 This work is not currently on view.
Title

Still Life with Flowers, Fruits, a Parrot and a Monkey

Artist

Date

1690/1699

Medium

oil on canvas

Dimensions (H x W x D)

43 3/8 in x 59 1/8 in

Collection Area

European Art

Category

Paintings

Object Type

painting

Culture

French

Spanish

Credit Line

Museum Purchase: Support provided by Laura and Roger Meier through the Director's Fund and the North Building Campaign

Accession Number

2004.1

Copyright

public domain

Terms
Jean-Baptiste Monnoyer was responsible for developing a grand style of flower-painting for the court of Louis XIV. Celebrated for his monumental commissioned works, Monnoyer is considered to have brought a particular French sensibility to the Dutch tradition of still life. This elegant example of Monnoyer's painting was probably executed in England, where the artist spent his final years working with his son, Antoine. They enjoyed great success, earning numerous commissions for grand aristocratic and royal residences, including Hampton Court and Kensington Palace.