Strolling through Summer Mountains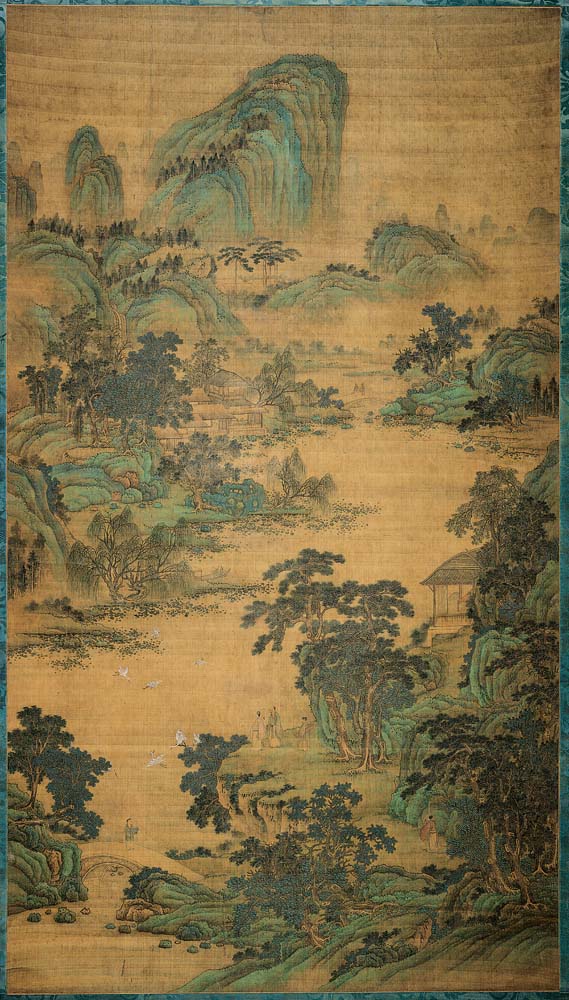 China, Suzhou, unknown artist, Strolling through Summer Mountains, second half of 16th century, hanging scroll; ink and color on silk, Museum Purchase: Asian Art Acquisition Fund, public domain, 2008.21
This work is not currently on view.
Title

Strolling through Summer Mountains

Date

second half of 16th century

Period

China: Ming Dynasty (1368-1644)

Medium

hanging scroll; ink and color on silk

Dimensions (H x W x D)

painting: 91 15/16 in x 51 5/8 in; mounting: 61 1/2 in wide

Collection Area

Asian Art

Category

Paintings

Object Type

hanging scroll

Culture

Chinese

Credit Line

Museum Purchase: Asian Art Acquisition Fund

Accession Number

2008.21

Copyright

public domain

Terms
Chinese landscape paintings are often designed for the armchair traveler. For the busy government official or merchant kept in the city by public affairs, the painted landscape offered a virtual escape to an idyllic world.

In this monumental scroll, made to adorn the reception hall of a wealthy home, the viewer is invited to join nine scholars in savoring the lush foliage of summer as it unfolds along a riverbank. A flock of nine cranes enhances the utopian atmosphere of the scene, as cranes are symbols of longevity. Nine is an auspicious number in Chinese numerology.   The bright blue and green pigments seen here were made by grinding azurite and malachite, two semi-precious stones, into a fine powder. Since they were expensive as well as difficult to use, their lavish application in a painting of such large scale amounts to a flagrant display of wealth. Azurite and malachite first appeared in Chinese painting during the Tang dynasty (618–907), when their use was inspired by luxury goods imported from Persia. Ever since, the "blue and green style" in landscape painting has carried connotations of the Persian concept of the garden/landscape as paradise, adding yet another auspicious dimension to this work.

During the Ming dynasty (1368–1644), painting in the "blue-and-green style" was revived by several artists working in Suzhou, an urbane cultural center southeastern China. The dominant figure in this movement was Qiu Ying (ca. 1494–1552), whose influence is seen in both the composition and brushwork of this landscape.