Four-story tower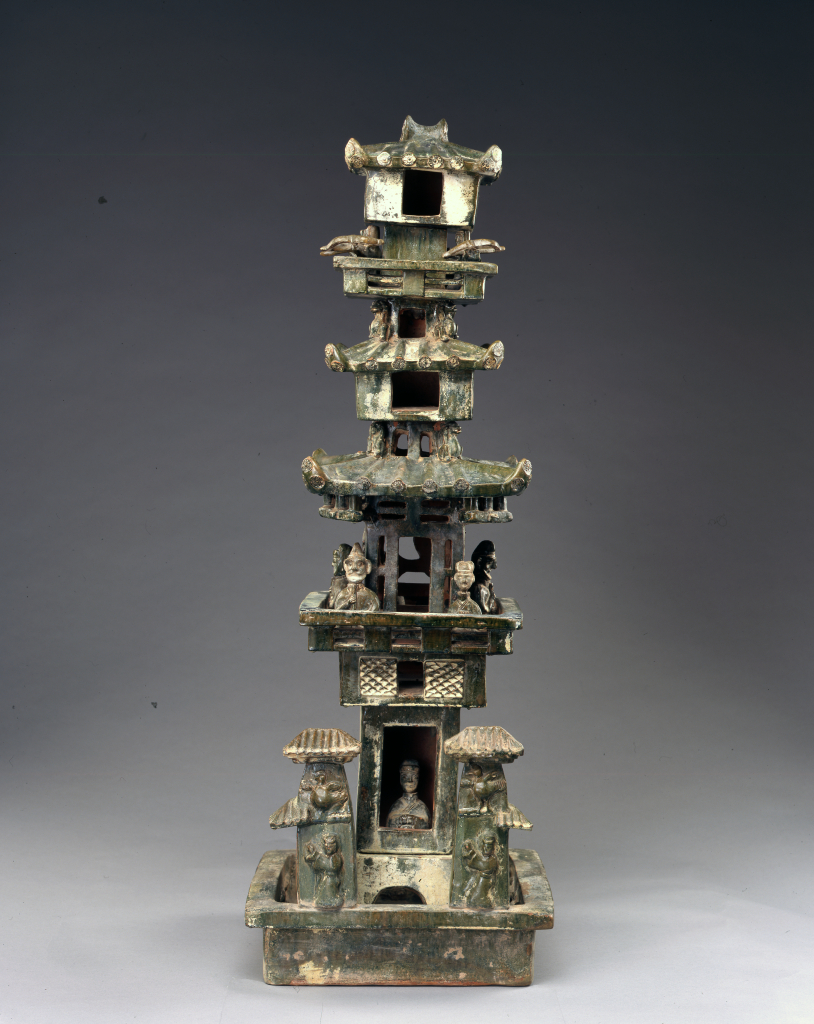 China, Henan province, Four-story tower, 2nd century CE, earthenware with green lead glaze, The Arlene and Harold Schnitzer Collection of Early Chinese Art, public domain, 2002.70.3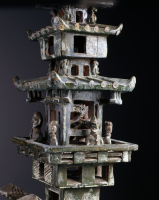 This work is on view.
Title

Four-story tower

Related Titles

original language: 緑釉四層陶望樓

Artist

Date

2nd century CE

Period

China: Eastern Han period (25-220 CE)

Medium

earthenware with green lead glaze

Dimensions (H x W x D)

47 in x 16 1/2 in x 16 in

Collection Area

Asian Art

Category

Ceramics

Sculpture

Object Type

model

Culture

Chinese

Credit Line

The Arlene and Harold Schnitzer Collection of Early Chinese Art

Accession Number

2002.70.3

Copyright

public domain

Terms

Location
Multistoried towers such as this one first appeared in Chinese tombs of the Eastern Han dynasty (25-220 CE) in north central China. These towers evoke the appearance of a new building type, a stand-alone tower designed to serve as a pleasure pavilion or watch tower, and constructed of wood, plaster, and tile.

In this clay model, the gate pillars, or que, bear a relief image of a guard at ground level and a phoenix--symbol of the south but perhaps also marking the entrance to a Daoist paradise--on the second story.

Once inside the gate, the moat is well-stocked with ducks, fish, crabs, and turtles, ensuring abundant food for the occupants. A seated man--possibly meant to be the tomb occupant--gazes out at us from the tower's first story. Above him, on the second-story balcony, appear three men in Chinese robes and three foreigners (the latter identified by their big noses, beards, and unusual hats). On the top balcony are archers with crossbows at the ready.