Tenmoku Tea Bowl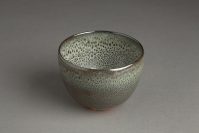 Kimura Moriyasu, Tenmoku Tea Bowl, 1990/2002, stoneware with tenmoku "oil spot" glaze, Museum Purchase: Margery Hoffman Smith Fund, © unknown, research required, 2002.3
This work is not currently on view.
Title

Tenmoku Tea Bowl

Related Titles

original language: 油滴天目茶盌

Artist

Date

1990/2002

Medium

stoneware with tenmoku "oil spot" glaze

Dimensions (H x W x D)

3 1/2 in x 4 7/8 in diam.

Inscriptions & Markings

seal: Moriyasu 盛康 (Moriyasu), stamped in red ink; relief seal, inside of box lid Language: Japanese

inscription: Moriyasu saku 盛康作 (Made by Moriyasu), brushed in black ink, box lid, interior Language: Japanese

inscription: Yuteki tenmoku chawan 油滴天目茶盌 (Oil drop tenmoku teabowl), brushed in black ink, outside of box lid Language: Japanese

seal: Moriyasu 盛康 (Moriyasu), impressed seal, on foot Language: Japanese

Collection Area

Asian Art

Category

Ceramics

Modern and Contemporary Ceramics

Object Type

tea bowl

Culture

Japanese

Credit Line

Museum Purchase: Margery Hoffman Smith Fund

Accession Number

2002.3

Copyright

© unknown, research required

Terms
Kimura Moriyasu was born into a family of Kyoto potters. While his father specialized in painting colorful designs on porcelain, Moriyasu has devoted his life to mastering tenmoku, a mottled iron-brown glaze that first appeared on Chinese tea bowls during the eleventh century. Tenmoku is cherished in both China and Japan as the ideal glaze to complement matcha, the frothy pale green color of whipped, powdered tea.

Kimura's admitted obsession is "oil spot" tenmoku, in which iron in the glaze forms surface crystals, creating a dot pattern. It is extremely difficult to control, as the results depend on subtle interactions between clay, glaze, and firing conditions in the kiln.