Shigaraki Ware Tea Bowl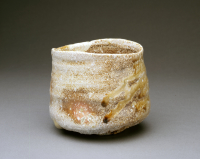 Ōtani Shirō, Shigaraki Ware Tea Bowl, 2001, Shigaraki stoneware with ash glaze, Museum Purchase: Funds provided by Carol and Seymour Haber, © artist or other rights holder, 2002.28.1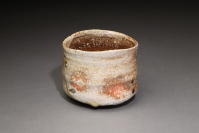 This work is not currently on view.
Title

Shigaraki Ware Tea Bowl

Related Titles

original language: 信楽焼茶碗

translated: Shigaraki Ware Teabowl

Artist

Date

2001

Medium

Shigaraki stoneware with ash glaze

Dimensions (H x W x D)

4 5/16 in x 5 1/8 in x 5 in

Collection Area

Asian Art

Category

Ceramics

Modern and Contemporary Ceramics

Object Type

tea bowl

Culture

Japanese

Credit Line

Museum Purchase: Funds provided by Carol and Seymour Haber

Accession Number

2002.28.1

Copyright

© artist or other rights holder

Terms
Ōtani Shirō grew up in the pottery town of Shigaraki, where he worked decorating commercial pots for much of his youth. He moved to Kyoto to formally study ceramics and returned in 1973 to build his own kiln, devoting himself to working in the distinctive local clay, which is coarse and flecked with quartz particles that burst in the firing process. In the ash and flame of the wood-fired kiln, Shigaraki clay is transformed into mottled shades of pink, rust, and brown, with occasional traces of transparent olive green glaze. Ōtani has won national and international recognition for his modern interpretations of tea wares in this demanding material. This teabowl was acquired from the artist when he was in residence in Portland.