Samson Betrayed by Delilah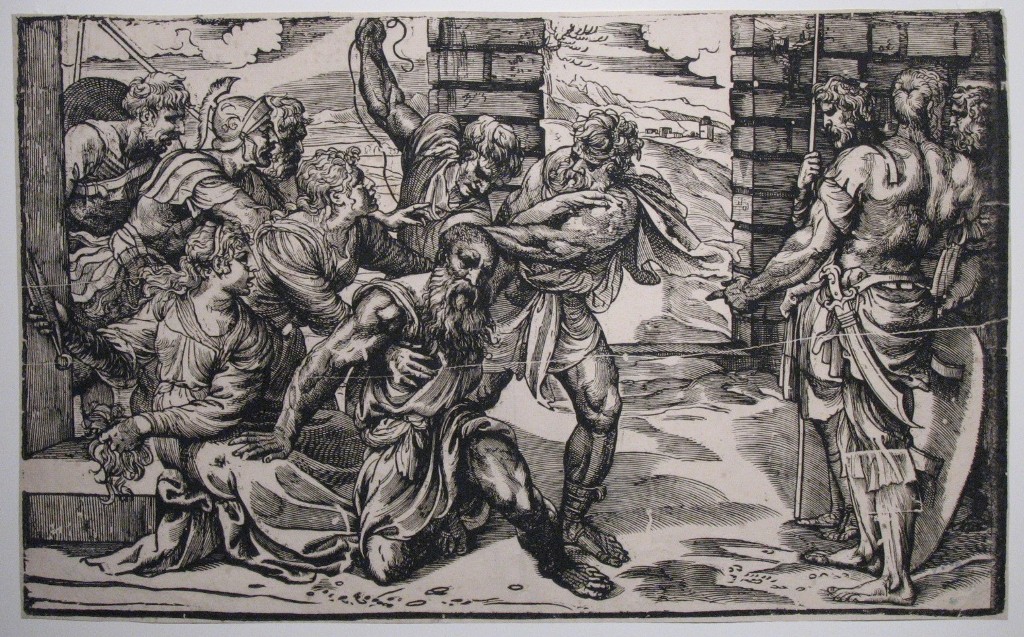 Nicolò Boldrini; after Titian, Samson Betrayed by Delilah, ca. 1540/1545, woodcut on paper, Bequest of Jacob Kainen, public domain, 2002.24.10
This work is not currently on view.
Title

Samson Betrayed by Delilah

Artist

Nicolò Boldrini (Italian, born ca. 1500, active ca. 1530-1570)

Date

ca. 1540/1545

Medium

woodcut on paper

Dimensions (H x W x D)

image: 12 in x 19 3/4 in; sheet: 12 1/4 in x 19 7/8 in

Collection Area

Graphic Arts

Category

Prints

Object Type

relief print

Culture

Italian

Credit Line

Bequest of Jacob Kainen

Accession Number

2002.24.10

Copyright

public domain

Terms
The Renaissance master painter Titian seems to have had one or more trained woodcutters working in his shop to create prints that would translate his designs and spread his fame. One of these cutters was the enigmatic Nicolò Boldrini, who signed a number of woodcuts after Titian's drawings. Boldrini sought to convey in his carving the energy of Titian's broad ink lines, as evident in the scene depicted here. Vigorous figures are set against a planar architectural backdrop composed of massive stone blocks. Delilah has just betrayed Samson, having shorn his hair and thus depriving him of his fabled strength. A group of several Philistine soldiers surging from the left creates a sense of urgency and movement. The compositional field is closed on the right by a group of three warriors that serves as an onlooking chorus. The powerful soldier with his muscular back turned to us gestures toward Samson, directing our attention to the hero's downfall.