Suite Louisiana: Down Tchoupitoulas Street (Chef Emeril)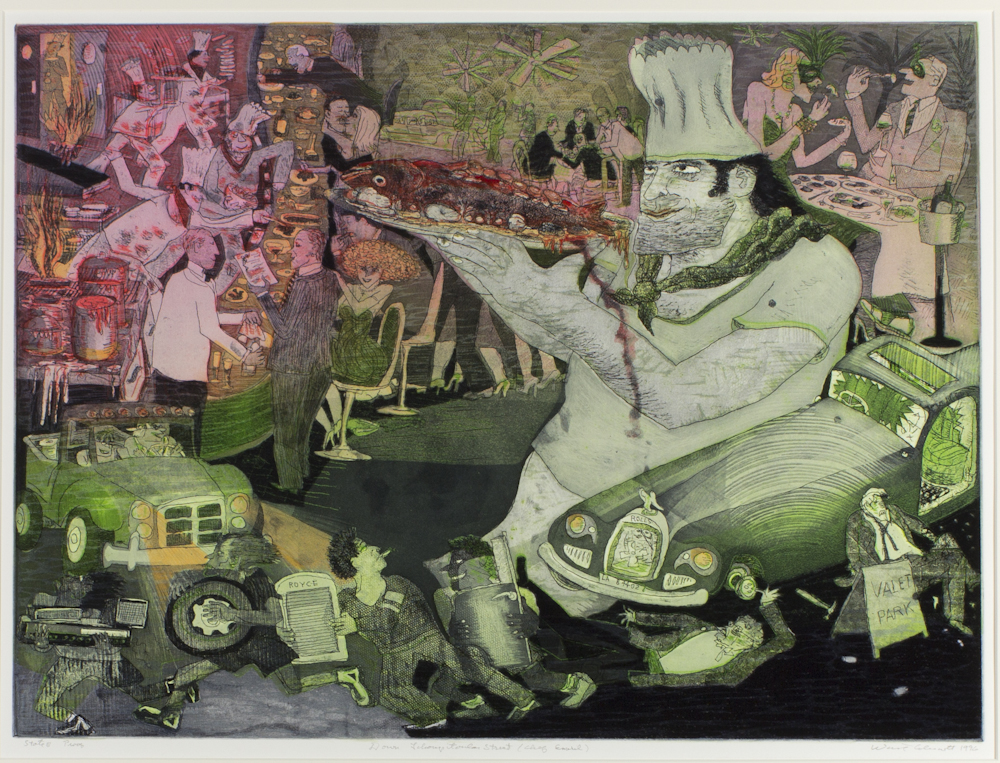 Warrington Colescott, Suite Louisiana: Down Tchoupitoulas Street (Chef Emeril), 1996, soft-ground etching, aquatint, and spit-bite aquatint, with vibrograver, à la poupée inking, and relief rolls through stencils, printed in color on white Somerset paper, Gift of the Artist, © Warrington Colescott, 2001.57.4
This work is not currently on view.
Title

Suite Louisiana: Down Tchoupitoulas Street (Chef Emeril)

Related Titles

series (original language): Suite Louisiana

Artist

Date

1996

Medium

soft-ground etching, aquatint, and spit-bite aquatint, with vibrograver, à la poupée inking, and relief rolls through stencils, printed in color on white Somerset paper

Edition

edition of 80

State

state iii proof

Catalogue Raisonné

Chapin 329

Dimensions (H x W x D)

plate: 17 3/4 in x 23 3/4 in; sheet: 22 1/2 in x 30 in

Collection Area

Graphic Arts

Category

Prints

Object Type

intaglio print

Culture

American

Credit Line

Gift of the Artist

Accession Number

2001.57.4

Copyright

© Warrington Colescott

Terms
Although raised in California, Warrington Colescott has long been drawn to Louisiana, his ancestral home. In the 1990s, he embarked on a series of prints entitled Suite Louisiana, exploring the history, music, and, especially, food of the region. This print celebrates food culture along Tchoupitoulas Street, one of the longest thoroughfares in New Orleans, and highlights celebrity chef Emeril Lagasse, who is famous for his Cajun and Creole cuisine.