Amikuk Mask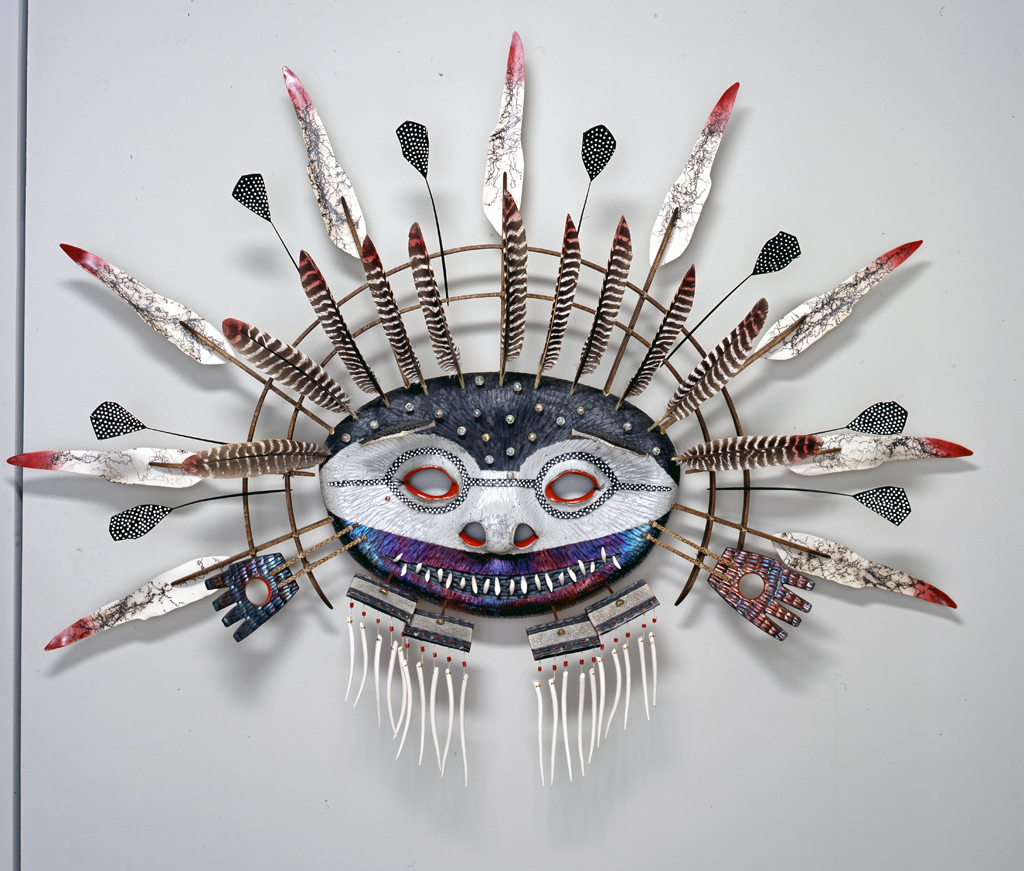 Phillip Charette, Amikuk Mask, 2006, raku and horsetail fired clay, porcelain, glass beads, red oak, feathers, rawhide, and paint, Gift of the Native American Art Council, © Phillip Charette, 2006.10
This work is not currently on view.
Title

Amikuk Mask

Artist

Date

2006

Medium

raku and horsetail fired clay, porcelain, glass beads, red oak, feathers, rawhide, and paint

Dimensions (H x W x D)

60 in x 72 in x 18 in

Collection Area

Native American Art; Northwest Art; Modern and Contemporary Art

Category

Arctic

Ceremonial and Ritual Objects

Object Type

mask

Culture

American

Cultural Group

Yup'ik

Credit Line

Gift of the Native American Art Council

Accession Number

2006.10

Copyright

© Phillip Charette

Terms
Phillip Charette, whose Yup'ik name Aarnaquq was handed down in his family, is an artist who sees inspiration in traditional forms and creates visually potent statements using a variety of contemporary media. Historically, Yup'ik shamans used Amikuk masks in their healing ceremonies as a portal to travel into the spiritual world. Although the traditional style of Yup'ik mask was carved from wood, Charette uses a range of ceramic techniques to achieve the desired results and even models the clay to simulate the adze marks that appear on the surface of wooden masks. He researches every detail and each aspect has a symbolic reference. For example, the white paint around the eyes represent snow goggles and the red on the lips and interior of the nostrils represents blood, signifying the mask's strength, while the porcelain teeth are a reminder of the dangerous and powerful beings that inhabit the spiritual world.