Still Life of Flowers and Fruit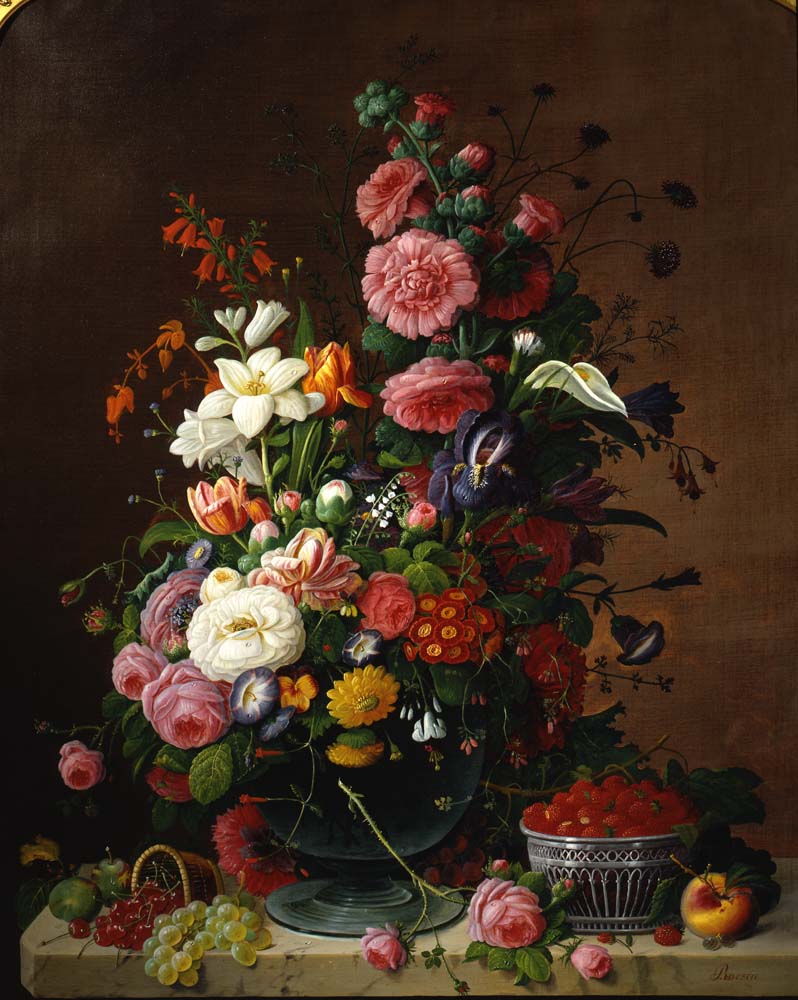 Severin Roesen, Still Life of Flowers and Fruit, 1870-1872, oil on canvas, Gift of Mary and Pete Mark, public domain, 2005.20
This work is on view.
Title

Still Life of Flowers and Fruit

Artist

Date

1870-1872

Medium

oil on canvas

Dimensions (H x W x D)

50 1/4 in x 40 in

Inscriptions & Markings

signature: SRoesen, lower right

Collection Area

American Art

Category

Paintings

Object Type

painting

Culture

American

Credit Line

Gift of Mary and Pete Mark

Accession Number

2005.20

Copyright

public domain

Terms

Location
Still-life painting has been a traditional genre in American art since the colonial period. The 19th century brought a marked resurgence of interest in still lifes, when they were seen as symbols of both national abundance and personal prosperity following the Civil War.

Severin Roesen was known for his sumptuous and detailed floral still lifes in the tradition of the 17th-century Dutch- and German painters. Trained as a porcelain painter in Germany, Roesen immigrated as an adult to become one of 19th-century America's most beloved still-life painters.

This work is a dramatic and unusual example both in its size and vertical format. It depicts flowers and decorative motifs seen frequently in Roesen's work, but also includes less often-seen elements such as the Lily of the Valley at center, and the hollyhock, which crowns the arrangement.