Street Corner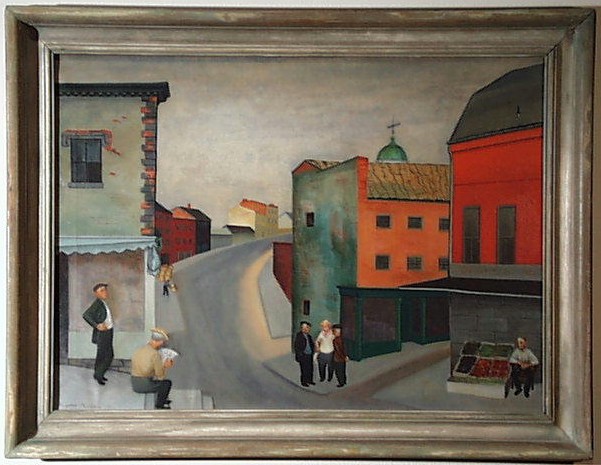 Gregorio Prestopino, Street Corner, 1935, oil on canvas, Allocated by the U.S. Government, Commissioned through New Deal art projects, public domain, L43.6.5
This work is on view.
Title

Street Corner

Artist

Date

1935

Medium

oil on canvas

Dimensions (H x W x D)

22 1/4 in x 15 1/4 in

Collection Area

American Art

Category

Paintings

Object Type

painting

Culture

American

Credit Line

Allocated by the U.S. Government, Commissioned through New Deal art projects

Accession Number

L43.6.5

Copyright

public domain

Terms

Location
Created as part of the Works Progress Administration, Street Corner, tapped into the strain of social realism and commentary popular in America during the Great Depression. Prestopino's works from this period depicted subjects such as street life, prisons, and conditions in New York's Harlem neighborhood. His use of simplified forms—often outlined in black and a limited palette of color—focus the viewer's attention on the subject matter rather than technique. As a painting instructor at the New School for Social Research in New York, Prestopino passed on both his methods and his social-activist consciousness to successive generations.