Hercules and Antaeus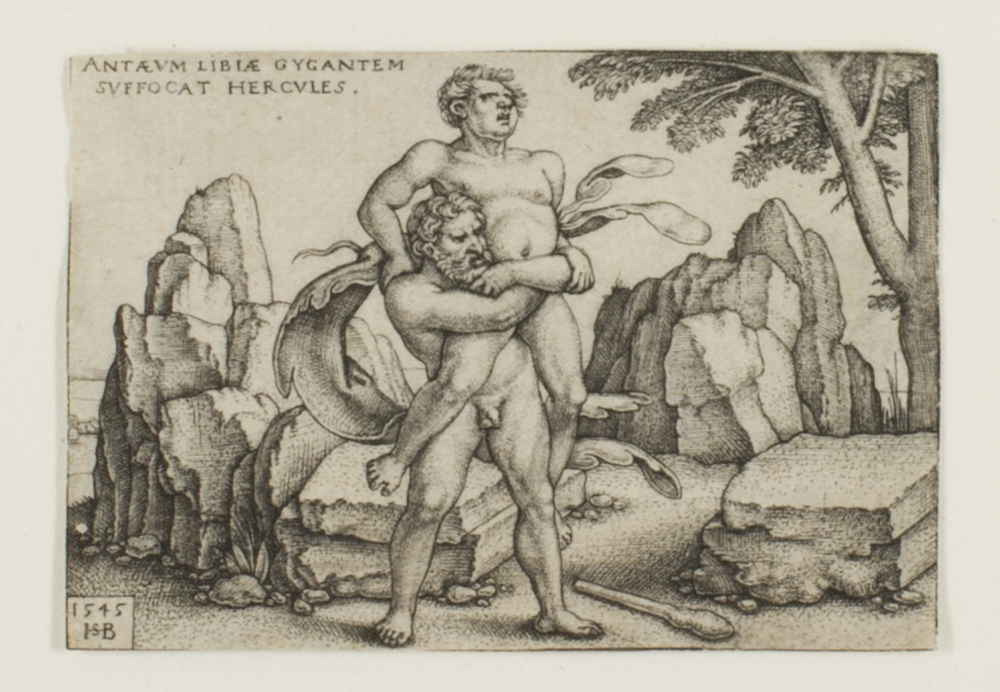 Hans Sebald Beham, Hercules and Antaeus, 1545, engraving on paper, Gift of Mrs. Mary Riley, public domain, 93.39.8
This work is not currently on view.
Title

Hercules and Antaeus

Artist

Date

1545

Period

Late Renaissance (mid-late 16th century)

Medium

engraving on paper

Dimensions (H x W x D)

image/sheet: 1 7/8 in x 2 13/16 in

Inscriptions & Markings

signature/maker's mark: LL "HSB"

inscription: UR "Antaum Lible Gygantem Suffocat Hercules"

Collection Area

Graphic Arts

Category

Prints

Object Type

intaglio print

Culture

German

Credit Line

Gift of Mrs. Mary Riley

Accession Number

93.39.8

Copyright

public domain

Terms
Hans Sebald Beham was known as one of the "Little Masters" of the Northern Renaissance for his skill in creating masterful engravings on a very small scale. Although diminutive, these prints capture the strength and endurance of the mighty hero who overcame twelve labors (challenges) to redeem himself. Among the most dramatic scenes is Beham's engraving of Hercules and Antaeus. Although the hero's struggle with Antaeus, the Giant whose strength came from his mother, Gaea (Earth), was not considered one of Hercules's twelve labors, Renaissance artists frequently included it. To conquer the Giant, Hercules lifted him up, breaking his connection with the ground. It was a story that lent itself well to symbolic interpretation, dividing the lower, earthbound nature of humankind (the Giant) from the higher, heavenly realm.