Basket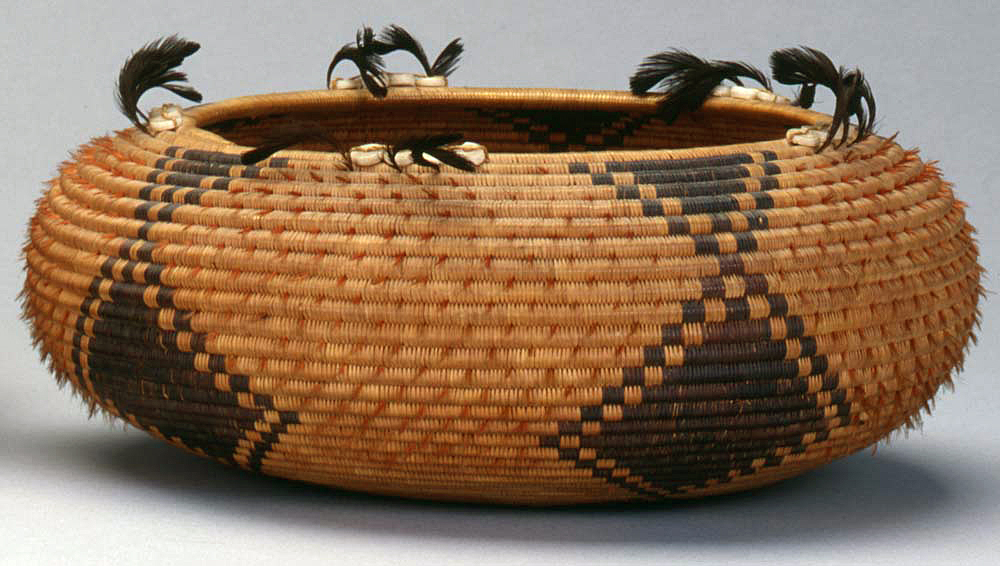 Pomo artist, Basket, ca. 1880/1900, willow, sedge root, bulrush root, cotton string, clamshell beads, quail feathers, and woodpecker feathers, The Elizabeth Cole Butler Collection, no known copyright restrictions, 91.95.34
This work is not currently on view.
Title

Basket

Artist

Date

ca. 1880/1900

Medium

willow, sedge root, bulrush root, cotton string, clamshell beads, quail feathers, and woodpecker feathers

Dimensions (H x W x D)

3 1/2 in x 8 in

Collection Area

Native American Art

Category

California

Baskets

Object Type

basket

Cultural Group

Pomo

Credit Line

The Elizabeth Cole Butler Collection

Accession Number

91.95.34

Copyright

no known copyright restrictions

Terms
The Pomo are seven distinct cultural groups that historically occupied the California coast from south of the Russian River northward to the Fort Bragg area and inland to the region around Clear Lake. Although the Pomo made a variety of baskets, they are best known for finely coiled baskets such as these. The basket on the left is constructed with a three-coil foundation. The woven designs on Pomo baskets are usually geometric; figurative designs are rare. Pomo weavers often add feathers and clam shell beads as further ornamentation. The dark plumes are quail topknots, frequently used as accents around the basket rims. The red feathers, from the acorn woodpecker, are very fine; each tuft on the basket is made of several feathers that have been twisted together.