Daphnis und Chloe (Daphnis and Chloe), Plate V from the portfolio Antike Legenden (Classical Legends)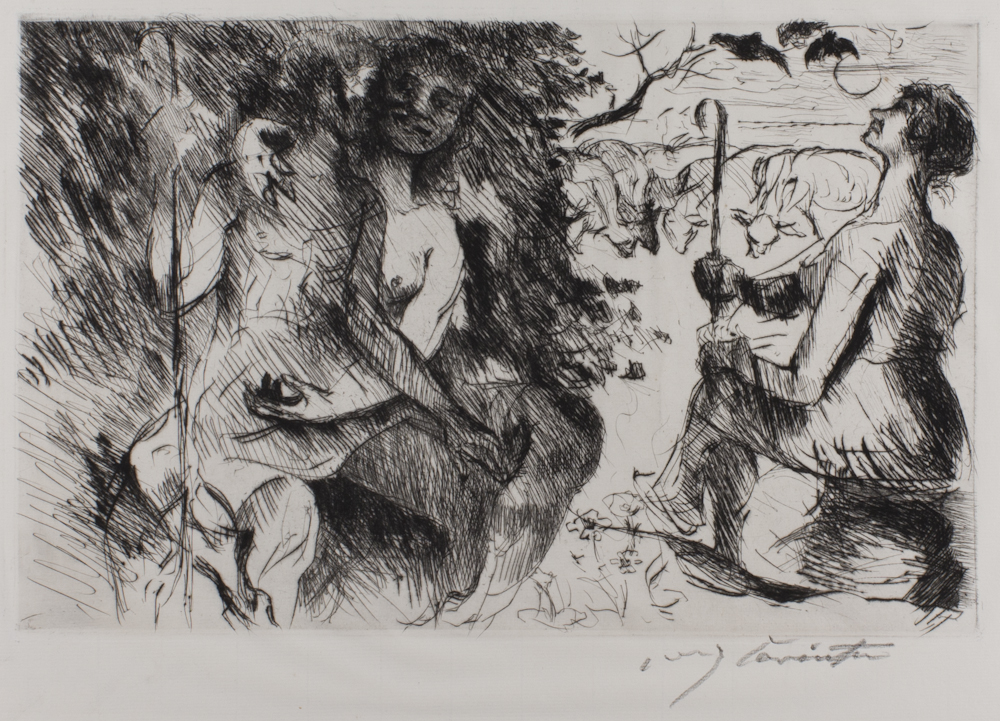 Lovis Corinth, Daphnis und Chloe (Daphnis and Chloe), Plate V from the portfolio Antike Legenden (Classical Legends), 1919, drypoint on handmade "Bütten" paper, The Vivian and Gordon Gilkey Graphic Arts Collection, public domain, 91.84.727
This work is not currently on view.
Title

Daphnis und Chloe (Daphnis and Chloe), Plate V from the portfolio Antike Legenden (Classical Legends)

Related Titles

original language: Daphnis und Cloe

portfolio: Antike Legenden (Classical Legends)

translated: Daphnis and Chloe

Artist

Date

1919

Medium

drypoint on handmade "Bütten" paper

Edition

Edition: 150 (including deluxe edition of 50 on Japan paper with additional plate and a regular edition of 100 on handmade "Bütten" paper); this impression is 21/100 on Büttenplate 5

Catalogue Raisonné

Schwarz 351 V

Dimensions (H x W x D)

plate: 9 1/16 in x 14 1/8 in; sheet: 18 5/16 in x 24 5/8 in

Collection Area

Graphic Arts

Category

Prints

Object Type

intaglio print

Culture

German

Credit Line

The Vivian and Gordon Gilkey Graphic Arts Collection

Accession Number

91.84.727

Copyright

public domain

Terms
Lovis Corinth produced the twelve prints of Antike Legenden (Classical Legends) just after World War I, when the themes of struggle, battle, and conflict would have been easily understood in a modern context. Corinth hewed to the classical story line, but created a modern look for the ancient narrative. He rendered his subjects in a sketchy, Expressionist style, rich with the burr of the drypoint needle used to etch the plates. While many of the themes evoke conflict, such as Der Raub der Helena (The Abduction of Helen) or Die Schmiede des Vulkan (The Forge of Vulcan), where the god of fire created the weapons of war, Corinth subverted the martial theme in Der Spiegel der Venus (The Mirror of Venus), in which the goddess of love uses the shield of Mars (god of war) as a mirror to reflect her voluptuous beauty.