Onoe Baikô VII as the Wisteria Maiden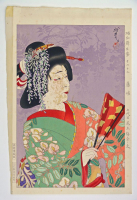 Ōta Masamitsu, Onoe Baikô VII as the Wisteria Maiden, 1955, color woodblock print on paper, Gift of Mrs. Fay Kramer, © unknown, research required, 91.48.2K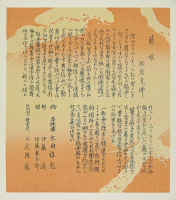 This work is not currently on view.
Title

Onoe Baikô VII as the Wisteria Maiden

Related Titles

Series Title: Showa butai sugata (Figures of the Showa Stage)

Artist

Date

1955

Medium

color woodblock print on paper

Dimensions (H x W x D)

image: 14 1/8 in x 9 7/16 in; sheet: 16 1/4 in x 10 1/2 in

Collection Area

Asian Art; Graphic Arts

Category

Prints

Japanese Modern Prints

Object Type

relief print

Culture

Japanese

Credit Line

Gift of Mrs. Fay Kramer

Accession Number

91.48.2K

Copyright

© unknown, research required

Terms
Onoe Baikô VII (1915-1995), one of the most successful kabuki stars of the 20th century, performed under that stage name from 1947 until his retirement a few years before his death. Adept at many roles, he is best remembered for his outstanding dance performances in female roles. He is portrayed here as Fuji Musume, the Wisteria Maiden, a dance which is normally performed as the climax to a Kakuki presentation. The stage set includes an enormous blossoming wisteria tree, a prop behind which the actor does four quick costume changes during the dance.