Nakamura Utaemon V as Masaoka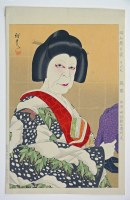 Ōta Masamitsu, Nakamura Utaemon V as Masaoka, 1955, color woodblock print on paper, Gift of Mrs. Fay Kramer, © unknown, research required, 91.48.2G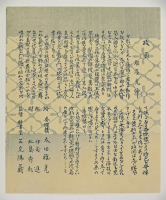 This work is not currently on view.
Title

Nakamura Utaemon V as Masaoka

Related Titles

Series Title: Showa butai sugata (Figures of the Showa Stage)

Artist

Date

1955

Medium

color woodblock print on paper

Dimensions (H x W x D)

image: 14 3/16 in x 9 7/16 in; sheet: 16 3/16 in x 10 5/16 in

Collection Area

Asian Art; Graphic Arts

Category

Prints

Japanese Modern Prints

Object Type

relief print

Culture

Japanese

Credit Line

Gift of Mrs. Fay Kramer

Accession Number

91.48.2G

Copyright

© unknown, research required

Terms
Nakamura Utaemon V (1865-1940) performed under that stage name from November 1911 until the year before his death. Renowned for his success in onnagata roles, he also performed male roles traditionally associated with the Nakamura lineage of actors. He is portrayed here as Masaoka, a female retainer to the Date clan who must safeguard the orphaned heir against a rival faction. Fearing that he will be poisoned, she prepares his food herself. Lady Sakae and Lady Yoshio, enemies of the heir, visit and offer the boy sweets. Masaoka's son dashes in and eats one; as he collapses in pain, Yoshio stabs him. Masaoka doesn't bat an eyelash, and the conspirators are convinced they have killed the heir and that Masaoka is on their side. Only after they leave can she grieve for her child. Yashio, who has hidden nearby, suddenly attacks Masaoka and the two engage in a battle with halberds, the woman's weapon of choice in historical times. Masaoka is considered one of the most demanding dramatic roles for an onnagata, requiring a display of emotions restrained and then released.