Nakamura Utaemon VI as Kiyohime in 'Musume Dôjôji'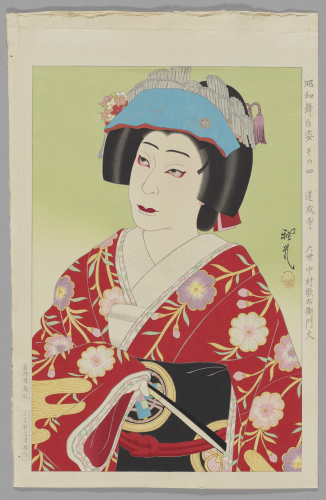 Ōta Masamitsu, Nakamura Utaemon VI as Kiyohime in 'Musume Dôjôji', 1955, color woodblock print on paper, Gift of Mrs. Fay Kramer, © unknown, research required, 91.48.2D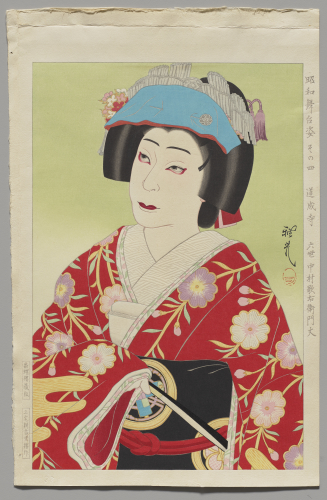 This work is not currently on view.
Title

Nakamura Utaemon VI as Kiyohime in 'Musume Dôjôji'

Related Titles

Series Title: Showa butai sugata (Figures of the Showa Stage)

Artist

Related People

Date

1955

Medium

color woodblock print on paper

Dimensions (H x W x D)

image: 14 1/4 in x 9 1/2 in; sheet: 16 5/16 in x 10 11/16 in

Collection Area

Asian Art; Graphic Arts

Category

Prints

Japanese Modern Prints

Object Type

relief print

Culture

Japanese

Credit Line

Gift of Mrs. Fay Kramer

Accession Number

91.48.2D

Copyright

© unknown, research required

Terms
One of the greatest dance roles in kabuki is that of Princess Kiyo in "Musume Dôjôji." An ancient legend immortalized first in the Noh drama and later in kabuki, it concerns unrequited love between the maiden Kiyo and Anchin, a novice Buddhist monk at Dôjôji temple. Anchin repeatedly tried to persuade Kiyo to forget him, but she pursued him relentlessly. In desperation, he hid beneath the temple bell. Kiyo follows him into the temple grounds and performs a passionate dance, finally turning into a fire-breathing serpent that embraces the bell, melting it and killing Anchin. This print depicts the famous 20th-century onnagata Nakamura Utaemon VI in the role of Kiyo.