Ichimura Uzaemon VI as the Fireman of the Me Company, Tatsugorô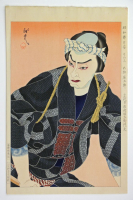 Ōta Masamitsu, Ichimura Uzaemon VI as the Fireman of the Me Company, Tatsugorô, 1955, color woodblock print on paper, Gift of Mrs. Fay Kramer, © unknown, research required, 91.48.2C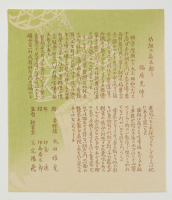 This work is not currently on view.
Title

Ichimura Uzaemon VI as the Fireman of the Me Company, Tatsugorô

Related Titles

Series Title: Showa butai sugata (Figures of the Showa Stage)

Artist

Date

1955

Medium

color woodblock print on paper

Dimensions (H x W x D)

image: 14 3/16 in x 9 1/2 in; sheet: 16 3/16 in x 10 7/16 in

Collection Area

Asian Art; Graphic Arts

Category

Prints

Japanese Modern Prints

Object Type

relief print

Culture

Japanese

Credit Line

Gift of Mrs. Fay Kramer

Accession Number

91.48.2C

Copyright

© unknown, research required

Terms
Ichimura Uzaemon XV (1874-1945) was born in Tokyo, putatively as the son of a Frenchman and a Japanese mother. He was adopted by the kabuki actor Ichimra Uzamon XIV, and first appeared on stage at age six. He assumed the stage name Uzaemon XV in October 1903, and until his last appearance in December 1944 was a leading actor in male action roles. He is said to have had an excellent voice and a powerful yet trim physique. He is portrayed here in an unusual role, that of a fireman; his low-class status is evident from the tattoos on his arms and the cotton towel headband. In the play "Megumi no kenka," based on a historical event, the fireman Tatsugorô was humiliated in a fight with a sumô wrestler.