Ichikawa Ebizô IX as Sasaki Moritsuna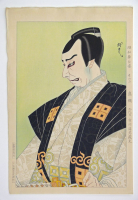 Ōta Masamitsu, Ichikawa Ebizô IX as Sasaki Moritsuna, 1955, color woodblock print on paper, Gift of Mrs. Fay Kramer, © unknown, research required, 91.48.2B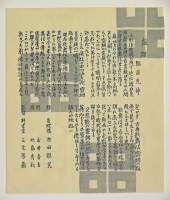 This work is not currently on view.
Title

Ichikawa Ebizô IX as Sasaki Moritsuna

Related Titles

original language: 昭和舞台姿 その二 盛綱 九代目市川海老丈

Artist

Date

1955

Medium

color woodblock print on paper

Dimensions (H x W x D)

image: 14 3/16 in x 9 1/2 in; sheet: 16 in x 10 5/8 in

Collection Area

Asian Art; Graphic Arts

Category

Prints

Japanese Modern Prints

Object Type

relief print

Culture

Japanese

Credit Line

Gift of Mrs. Fay Kramer

Accession Number

91.48.2B

Copyright

© unknown, research required

Terms
The kabuki actor Ichikawa Ebizô IX (1909-1965) performed under that name from 1940 through April of 1962, when he assumed the name Danjûrô XI. The nauseated grimace on his face and his clenched fist capture the dramatic climax in the play, "Moritsuna Jin'ya," a single act play extracted from the much longer "Ōmi Genji Senjin Yakata," written for the puppet theater in 1769.

Sasaki Moritsuna his brother Sasaki Takatsuna are on opposite sides of a civil war, with Moritsuna loyal to the shogun and Takatsuna the rebel. As the play opens, Moritsuna holds his brother's son Kôshirô as hostage. Messengers suddenly arrive and announce that Takatsuna has died in battle, re-enacting his death in a dance. The shogun himself enters with a head-box and places it before Moritsuna so that he may verify his brother's identity. The head-box is placed center stage and Moritsuna sits before it, facing the audience. He slowly lifts the box lid and removes the head to place it on a stand, but refuses to look directly at it. His nephew Kôshirô leaps out, cries "Father!" and commits seppuku (ritual suicide). Moritsuna upbraids the boy for impertinent behavior before an august guest, but still avoids looking at the head. Finally, he forces his gaze toward the decapitated head—and realizes with a shock that is it not his brother's. To honor Kôshirô's sacrifice, as well as his own familial affection, he must convince the shogun otherwise. He takes the head in his arms and bids it a farewell lament. The role requires the actor to portray arrogance, suspicion, surprise, grief, and deceit, all while sitting stock still.