Onoe Kikugorô VI as the maiden Yayoi in 'Kagami jishi'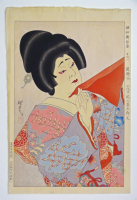 Ōta Masamitsu, Onoe Kikugorô VI as the maiden Yayoi in 'Kagami jishi', 1955, color woodblock print on paper, Gift of Mrs. Fay Kramer, © unknown, research required, 91.48.2A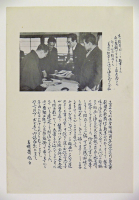 This work is not currently on view.
Title

Onoe Kikugorô VI as the maiden Yayoi in 'Kagami jishi'

Related Titles

Series Title: Showa butai sugata (Figures of the Showa Stage)

Artist

Date

1955

Medium

color woodblock print on paper

Dimensions (H x W x D)

image: 14 1/4 in x 9 1/2 in; sheet: 16 1/16 in x 10 1/2 in

Inscriptions & Markings

artist's seal: , printed in red ink, center left, within the picture border

printer's mark: 三宅耕書堂摺刷, printed in black ink, left margin

publisher's mark: 番蝶楼蔵版, printed in black ink, left margin

signature: 雅光, left center,within the picture border

title: 昭和舞台姿 その一 鏡獅子 六代目尾上菊五郎丈, printed in black ink, upper right margin

Collection Area

Asian Art; Graphic Arts

Category

Prints

Japanese Modern Prints

Object Type

relief print

Culture

Japanese

Credit Line

Gift of Mrs. Fay Kramer

Accession Number

91.48.2A

Copyright

© unknown, research required

Terms
Onoe Kikugorô VI (1885-1949) was one of the great kabuki stars of the first half of the 20th century. He performed under the stage name Kikugorô VI from March 1903 until his death. An actor of exceptional ability, he most often took on lead male roles, often assuming more than one role in the same play. Throughout his career, he repeatedly appeared in such classics as the Terakoya scene from "Sugawara denju tenari kagami," "Kanadehon Chûshingura," or "Yoshitsune senbon zakura"--in the last play, usually assuming 3 different roles. Surprisingly, he was also a superb dancer in female roles. He is portrayed here as the lady-in-waiting Yayoi performing a lion dance in the play, "Kagami jishi." It is a tribute to his skill and the affection of his fans that he was wildly popular in this role--written for the character of a teenage girl--when he was well past middle-age and quite plump.