Onoe Shôroku II as the Fishmonger Danshichi Kurobei, from the series Flowers of the Modern Stage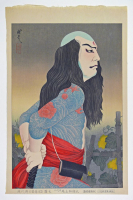 Ōta Masamitsu, Onoe Shôroku II as the Fishmonger Danshichi Kurobei, from the series Flowers of the Modern Stage, 1954, color woodblock print on paper, Gift of Mrs. Fay Kramer, © unknown, research required, 91.48.1L
This work is not currently on view.
Title

Onoe Shôroku II as the Fishmonger Danshichi Kurobei, from the series Flowers of the Modern Stage

Related Titles

Series Title: Gendai butai geika (Flowers of the Modern Stage)

display title: Onoe Shôroku II as the Fishmonger Danshichi Kurobei

Artist

Date

1954

Medium

color woodblock print on paper

Dimensions (H x W x D)

image: 16 5/8 in x 9 7/8 in; sheet: 16 5/8 in x 10 13/16 in

Collection Area

Asian Art; Graphic Arts

Category

Prints

Japanese Modern Prints

Object Type

relief print

Culture

Japanese

Credit Line

Gift of Mrs. Fay Kramer

Accession Number

91.48.1L

Copyright

© unknown, research required

Terms
Onoe Shôroku II (1913-1989) performed under that stage name from March 1935 until his retirement shortly before his death. Endowed with a powerful physique, he specialized in 'rough stuff' male roles, such as smugglers and thieves, and is considered one of the finest kabuki actors of the mid-20th century. Here he is depicted in full-body tattoo, wearing nothing more than a loin cloth, for the role of the fishmonger Danshichi Kurobei. Danshichi's character is based on a historical event of 1697, when an Osaka fisherman slew an enemy. The body was buried in snow and not discovered until the following summer. The event was first dramatized for the kabuki stage the following year, and revived in 1745 in the play "Natsu Matsuri Naniwa Kagami (Summer Festival, Mirror of Osaka)." Featuring the most spectacular murdur scene in the kabuki repertoire, the play is still regularly staged today.