Nakamura Kanzaburô XVII as Miuranosuke, from the series Flowers of the Modern Stage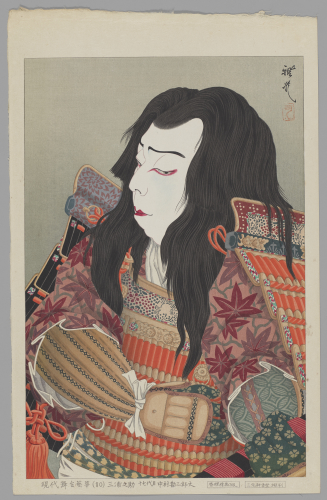 Ōta Masamitsu, Nakamura Kanzaburô XVII as Miuranosuke, from the series Flowers of the Modern Stage, 1954, color woodblock print on paper, Gift of Mrs. Fay Kramer, © unknown, research required, 91.48.1J
This work is not currently on view.
Title

Nakamura Kanzaburô XVII as Miuranosuke, from the series Flowers of the Modern Stage

Related Titles

Series Title: Gendai butai geika (Flowers of the Modern Stage)

Artist

Related People

Date

1954

Medium

color woodblock print on paper

Dimensions (H x W x D)

image: 14 3/4 in x 9 13/16 in; sheet: 17 in x 10 13/16 in

Collection Area

Asian Art; Graphic Arts

Category

Prints

Japanese Modern Prints

Object Type

relief print

Culture

Japanese

Credit Line

Gift of Mrs. Fay Kramer

Accession Number

91.48.1J

Copyright

© unknown, research required

Terms
Nakamura Kanzaburô XVII (1909-1988) was a kabuki actor of the mid-20th century who performed under that stage name from 1950 to the early 1970s. He was amazingly versatile, taking on roles of all types, and said to have performed more than 800 roles during his lifetime. He is depicted here as the warrior Miuranosuke in the play, "Kinugawa Mura Kankyo (A Cottage in Kinugawa Village)." ("Kunugawa Village" is actually the third act of a much longer play, "Kamakura sandaiki (A Tale of Three Generations Set in the Kamakura Period)," originally written for the puppet theater in 1781). As the play opens, Miuranosuke's betrothed, a beautiful woman of noble rank, is seen caring for his ailing mother in an isolated rural cottage. Miuranosuke, who had been wounded in battle, approaches the stage from the hanamichi—a platform that extends out into the theater, just over the heads of the audience. He staggers along and collapses, exhausted, at the cottage door.