Nakamura Kichiemon I as Lord Ichijô Ōkura, from the series Flowers of the Modern Stage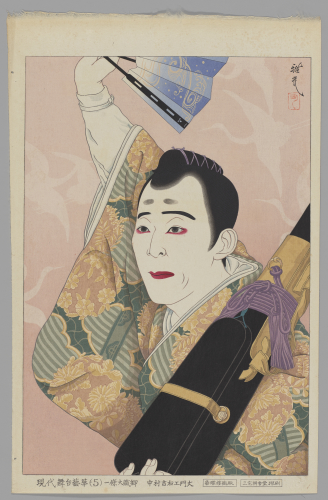 Ōta Masamitsu, Nakamura Kichiemon I as Lord Ichijô Ōkura, from the series Flowers of the Modern Stage, 1954, color woodblock print on paper, Gift of Mrs. Fay Kramer, © unknown, research required, 91.48.1E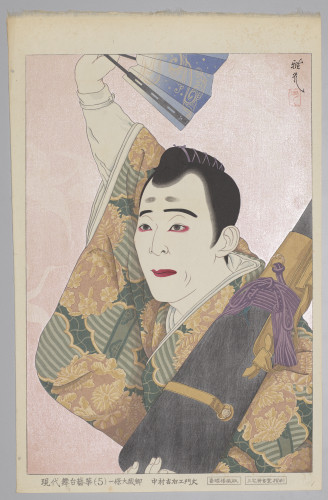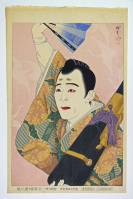 This work is not currently on view.
Title

Nakamura Kichiemon I as Lord Ichijô Ōkura, from the series Flowers of the Modern Stage

Related Titles

Series Title: Gendai butai geika (Flowers of the Modern Stage)

display title: Nakamura Kichiemon I as Lord Ichijô Ohkura

Artist

Date

1954

Medium

color woodblock print on paper

Dimensions (H x W x D)

image: 14 11/16 in x 10 in; sheet: 16 3/4 in x 10 3/4 in

Collection Area

Asian Art; Graphic Arts

Category

Prints

Japanese Modern Prints

Object Type

relief print

Culture

Japanese

Credit Line

Gift of Mrs. Fay Kramer

Accession Number

91.48.1E

Copyright

© unknown, research required

Terms
Nakamura Kichiemon I (1886-1954) is regarded as one of the most outstanding kabuki actors of the first half of the 20th century. A specialist in male action roles, he was influential in modernizing kabuki's appeal as modern theater. He acted under the stage name of Kichiemon from his childhood debut in 1897 until a few months before his death.

Kichiemon is portrayed here in the climactic moment from "Ichijô Ōkura monogatari (The Tale of Ichijô Ōkura)—an excerpt from a longer drama originally written in 1731. In the title role, he plays a nobleman of the late 12th century who is forced to feign madness in a time of political turmoil. He is sympathetic to the Minamoto clan of warriors, but Kyoto and the countryside are ruled by their rivals, the Taira. One day a Minamoto retainer visits his mansion and asks for a family heirloom—a special sword—that Ichijô has held in safekeeping for the young Minamoto heir. Knowing that the Taira have spies in his household, Ichijô uses the sword as a prop in a Noh dance. He holds the sword, encased in a special lacquered wood box, in his left hand, while he raises a fan with his right hand; the tension in the pose and on his face reveals the strain.